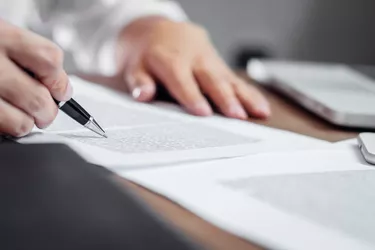 If you've ever been in the insurance industry, read over all the information forms you sign when you take out a policy, or heard two people talking about insurance, you may have come across the initials ISO. The ISO insurance meaning refers to the company Insurance Services Office. It collects data and provides vast amounts of information to many different groups. In the insurance industry it primarily serves both business and personal property and casualty insurers. Here's what you should know about this insurance service organization.
ISO was started in 1971 as a merger of several smaller companies' databases and developed a large bank of information to aid in property and casualty underwriting. It grew through the years and expanded its information collection beyond the property and casualty insurance industry sphere. The company is now a subsidiary of Verisk Analytics Incorporated, a family of companies that operates in every state as well as in 30 countries. These companies also provide information for mortgage lenders, health insurance companies and other businesses.
Verisk's Family of Companies
The Verisk family of companies includes AIR Worldwide, Atmospheric and Environmental Research (AER), Sequel, Power Advocate, Insurance Information Exchange (iiX), Wood Mackenzie, National Equipment Register (NER) and Xactware. ISO as an insurance service organization supplies the data, decision-support services and analytics for the property/casualty insurance and other services.
Replacement Cost From ISO
When you receive a notice that your home owner's replacement cost has increased, the data may have come from ISO. The company provides updates on replacement costs for commercial and personal lines. It offers information that allows the insurance company to set the replacement cost and aids the client in securing the appropriate amount of coverage.
ISO and Claims Information
Companies that use the services of ISO simply need to select the information about claims they're looking for and key in a zip code. The data is immediately available. Companies can find out the size, cause and amount of the loss in a specific area. There's data on the subrogation recoveries and salvage of automobile claims. Just about any claims information needed is available.
Public Protection Classification Program
ISO has rated fire department authorities and the fire protection services in communities for years. The Public Protection Classification (PPC) program assesses the available data and rates the areas from 1 to 10, with 10 incurring the biggest losses per $1,000 of assets. Insurance companies use this data and assign a higher premium multiplier to areas with a higher number PPC rating.
Data for Insurance Pricing
Actuaries at insurance companies look at the available data and set the rates they believe are competitive yet allow the company to pay all expenses and make a profit. ISO provides the information to the actuaries. Besides fire protection information, data about other companies' loss experiences in specific areas are used to reassess and establish the appropriate rate.
Effects on Insurance Fraud
Insurance fraud costs everyone money by increasing rates. The data provided by ISO helps eliminate some of the possibilities of fraud. It not only uses the insurance company's data but also uses information collected from other claims to see if there's a potential for fraud.