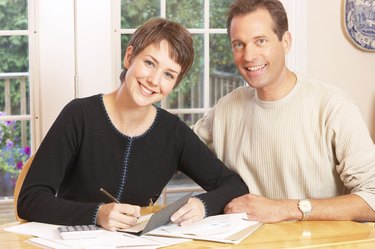 Paying monthly bills on time is imperative. Doing so not only avoids the added expense of late fees, but it also ensures your credit remains in good standing. If you are someone who has trouble keeping up with your monthly bills, creating a payment log is an excellent option. You can easily accomplish this using a word processing program. Once you make the payment log, you can then print it and track your bill payments each month.
Step 1
Collect receipts for all your monthly bills. Separate your bills that remain the same each month from the bills that differ monthly. Other options are to arrange the bills in order of importance or by payment due dates. Count the total number of monthly bills.
Step 2
Open a new blank document in a word processing program, such as Microsoft Word or the free OpenOffice Writer application. Save and name the document "Monthly Bill Payment Log" or something similar. This example uses MS Word, but the steps are similar for OpenOffice Writer.
Step 3
Change the page layout orientation from "Portrait" to "Landscape." This is not necessary but typically works better when creating payment logs.
Step 4
Type "Monthly Bill Payment Log" centered across the top in a large font size, such as 20 point or above. Skip a line, change the font size to 12 or 14 and type "Month:" or "Month______" on the left side.
Step 5
Go down two lines and click "Insert" and select "Table." Under "Table Size" make eight "Columns." Make the "Rows" whatever number equals your monthly bills but also add three or four extra rows. The top row is for titles, and the others are for bills that you might need to add only for specific months.
Step 6
Type the titles for each column across the first row. Name the first column "Bill Details" or "Company." Title the other columns "Amount Due," "Due Date," "Date Paid," "Method of Payment," "Check No.," "Amount Paid" and the last column "Notes" or "Comments."
Step 7
Save and print the monthly bill payment log and then fill in all of the details by hand each month. Alternatively, save time by typing in as much information about your bills, such as the bill name, due date and amount due, prior to saving and printing.
Tip
Use printable monthly bill payment templates online from various sources if you don't want to make a printable payment log from scratch. These are available in word document, spreadsheet and PDF forms.