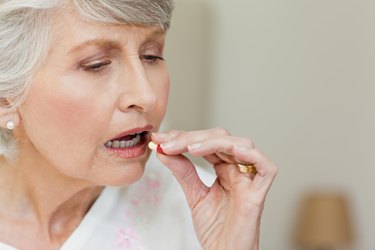 Drastically escalating costs of prescription medications have forced many Americans to look for alternative sources, including buying drugs from outside the country by mail order or over the Internet. Prices in Canada for many prescription and over-the-counter meds are cheaper than in the United States, and over a million Americans are ordering their prescriptions from across the border. Such purchases are technically against the law, but officials look the other way when consumers are buying the meds for personal use, generally no more than a three-month supply. Still, consumers must be vigilant to avoid harm from counterfeit or unsafe medications.
Find a Pharmacy
Start with the website of the Canadian International Pharmacy Association -- a regulatory authority that provides links to a list of member pharmacies. Every CIPA pharmacy member is licensed and regulated by the Canadian government for stringent safety practices. Each Canadian pharmacy certified by CIPA displays the agency's seal on its website.
Another site to check to verify safety is the National Association of Boards of Pharmacy. The NABP developed the Verified Internet Pharmacy Practice Sites that oblige pharmacies to comply with inspection and licensing requirements. The VIPPS seal on a pharmacy site establishes compliance with the agency's criteria that includes prescription authentication, patient privacy and quality assurance.
To compare the prices and services of online drugstores in the U.S. and Canada, use PharmacyChecker online.
Check It Out
Once you have chosen a pharmacy, look on its website for its license number and the name of the Canadian regulatory agency. The site should also display the seal of the CIPA. The website should include information about shipping fees, refund policies and payment methods. Reputable pharmacies should provide for encrypted -- secure -- payment via credit card and other methods. A reputable pharmacy will not charge your account until the meds are shipped. The pharmacy's site should provide a telephone number for questions about ordering and should show an address for customers who prefer to order by mail, rather than online.
Submit a Prescription
Legitimate Canadian pharmacies will require a prescription from your physician. Some pharmacies allow you to fax a prescription, but they will call your doctor's office for a confirmation or ask that you send them the original prescription by mail. Do not deal with pharmacies that claim they don't need a prescription. A reputable Canadian pharmacy will also ask you for your medical history and will inform you of their policies on privacy, complying with the Canadian PIPEDA regulations that are similar to HIPPA regulations in the United States.
Place Your Order
To order medication, follow ordering instructions on the website. Generally you must first place the order for a prescription medication and then follow up by faxing or mailing a new prescription along with a copy of the order. In some cases, a representative of the pharmacy will call you to confirm your order. Shipments often take as long as a month to arrive, so be sure to place orders for refills far enough in advance. The pharmacy may contact you by phone or email to remind you if a refill is due. A new prescription is not required for refills.