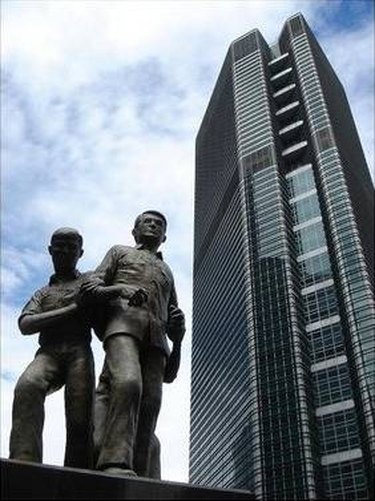 The Philippine Stock Exchange first appeared in 1993, but its history runs much longer. The exchange was a merger of the Manila Stock Exchange and the Makati Stock Exchange, which created a single exchange in the Phllippines. The merger also served as a symbol to a country that had seen its share of political divisions that the nation could act in a singular direction.
Manila Stock Exchange
The Manila Stock Exchange was founded Aug. 8, 1927, by five U.S. businessmen. It was in the Insular Life Building on Plaza Cervantes, Binondo. Founders W.P.G. Elliot, W. Eric Little, Gordon W. Mackay, John J. Russell and Frank W. Wakefield said that they wanted a stock exchange that would serve the public, practice ethical standards and uphold good business practices. They also claimed that trading in stocks would stimulate the Philippine's economy. The Manila Stock Exchange moved to Pasig in 1992.
Makati Stock Exchange
The younger Makati Stock Exchange was founded May 27, 1963. It, too, had five founding members: Miguel Campos, Bernard Gaberman, Aristeo Lat, Eduardo Ortigas and Hermenegildo B. Reyes. Because the Philippines already had an operating stock exchange, there was opposition to a second one. The exchange, which was in the Insular Life Building in Makati, did not begin operating until Nov. 16, 1965. In 1971, it moved to its own building on Ayala Avenue in Makati.
Competition
Though the Philippines had two stock exchanges, they both traded the same stocks. They were duplicating efforts, but they had different policies, different members and different stock prices. It soon became evident that the country needed only a single stock exchange.
Unification
Philippine President Fidel Ramos led the effort to unite the two exchanges as one. The Philippine Stock Exchange was founded July 14, 1992, and by Dec. 23, both the Makati and the Manila exchanges agreed to become part of it.
Philippine Stock Exchange
The first board of governors for the Philippine Stock Exchange was elected March 20, 1993. They were the president of the exchange and 14 member brokers. Eduardo de los Angelos was the first president of the Philippine Stock Exchange and Eduardo C. Lim was the first chairman of the board. Just short of a year later, the Securities and Exchange Commission granted the stock exchange its license to operate as a securities exchange. The licenses for the Manila and Makati exchanges were canceled at the same time. The Philippine Stock Exchange is at the Philippine Stock Exchange Centre, Ortigas Centre, Pasig City and at the PSE Plaza, Ayala Avenue, Makati City. The Philippine Stock Exchange has made improvements in its goal to become a premiere exchange. It became a member of the Association of National Numbering Agencies in 1995. In 1998, the Securities and Exchange Commission made the Philippine Stock Exchange a self-regulatory organization, which allows it to create its own rules and impose penalties on members.