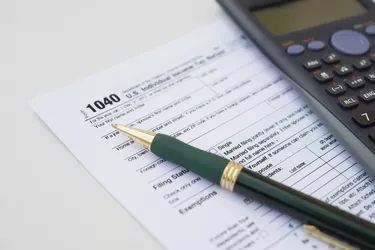 The Internal Revenue Service calls Form 1040EZ the simplest to complete. As with most IRS forms and publications, you can order it online, in writing or over the phone. The method you choose may depend on how quickly you want to file.
Eligible Users
The Form 1040EZ isn't for every taxpayer. To use it, you must file as a single person or married filing jointly and have no dependents. Your income can come only from wages, salaries, tips, taxable interest, taxable scholarships and fellowship grants, unemployment benefits and Alaskan Permanent Fund dividends. As of publication, you can't use Form 1040EZ if your income is above $100,000 or you have more than $1,500 in taxable interest. Use Form 1040 or 1040A rather than 1040EZ if you want to itemize deductions; claim income adjustments such as tuition and student loan interest; or claim tax credits other than the Earned Income Credit.
Tax Preparation Software
Tax software can be used to prepare and electronically file your Form 1040EZ. According to the IRS, you can use one of the programs free through Free File if your adjusted gross income doesn't exceed $60,000. The IRS posts a list of participating brands through its Free File page. Some of the providers have income limits lower than $60,000. For example, to use TurboTax for free, your adjusted gross income must be $31,000 or less, or no more than $60,000 if you qualify for the Earned Income Credit or are active-duty military. If you don't qualify for free software, you can still complete and file a Form 1040EZ for free through freefillableforms.com. This option doesn't perform as many automatic calculations as commercially-provided programs, which means you have to do some of your own math.
Get the Form Online
To download a Form 1040EZ to mail in, go to IRS.gov and click on the "Forms & Pubs" link. Select "Form 1040EZ" and the form will appear. You can fill in the form directly on your computer or tablet, but you'll have to do the calculations yourself. Download the instructions for the Form 1040EZ so you can look up and fill in your tax based on what you report as income. The form and its instructions are available through IRS.gov 24 hours a day, seven days a week.
Get the Form By Phone
To request a copy of Form 1040EZ over the phone, call 1-800-TAX-FORM (800-829-3676). According to the IRS, you can call Monday through Friday from 7 a.m. to 7 p.m. local time. Expect to receive your form and instructions within seven to 10 calendar days.
In Person
You can pick up a Form 1040EZ from your public library, post office or an IRS Taxpayer Assistance Center. To locate a center, enter your zip code in the IRS Office Locator tool on IRS.gov. The tool lists centers within a given distance of your home or office, such as 10 to 30 miles. You can also pull a list of centers in your state by clicking "Help & Resources" and then "Contact Your Local IRS Office" on IRS.gov.
Request by Mail
You can request the form by mail by writing to the IRS at 1201 N. Mitsubishi Motorway, Bloomington, IL 61705-6613. When you order by mail, you'll get two copies of the Form 1040EZ. The IRS says it can take seven to 15 days for your order to be processed and shipped.