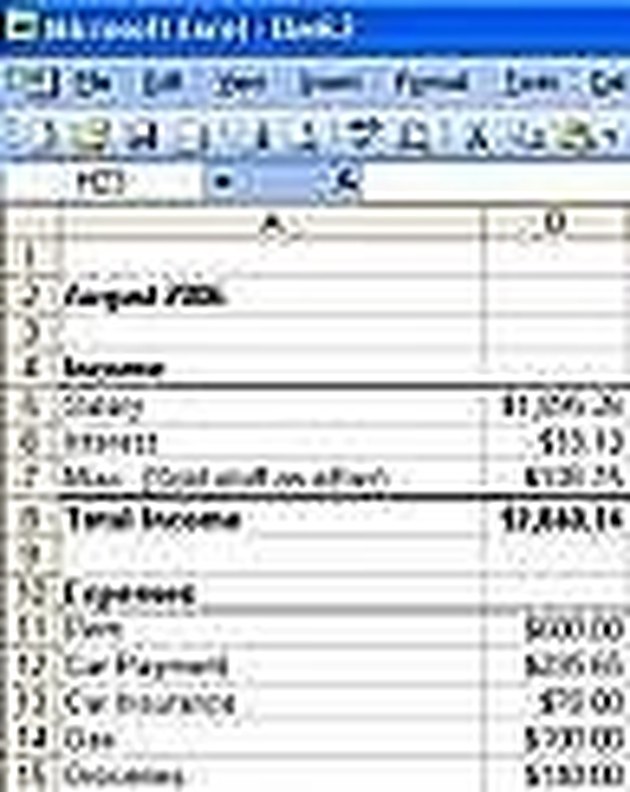 Excel Budget Spreadsheet samples can provide you a template to chart out your monthly budget. This excel sample can be a versatile tool for creating a budget spreadsheet.
Step 1
Decide what type of budget schedule to use for your excel spreadsheet samples. You can make your sample budget spreadsheet according to pay period or on a monthly basis.
Step 2
Decide on a excel budget format that suits your spreadsheet by downloading or patterning your template from other samples on the internet.
Step 3
Organize your income, savings, and expenses into sample budget categories on your excel spreadsheet.
Step 4
Chart your budget category samples from top to bottom according to priority on your excel spreadsheet starting with items you have to pay first.
Step 5
Set up your excel spreadsheet with two vertical columns to record projected budget goals verses actual income and expenses.
Step 6
Change excel number format to dollars and cents and choose decimal places to use for your budget spreadsheet.
Step 7
Increase your excel font size for clearer printing and denote negative amounts using parentheses or brackets.
Step 8
Use the excel auto sum function to calculate amounts on your budget spreadsheet.
Tip
Be realistic with projections and use as a guide to make adjustments before recording actual amounts. Set up a excel category for emergency budget and save this amount for cash liquidity. Make several rows denoted "other" into categories for additional expenses
Things You'll Need
computer with internet

Microsoft Excel software program

printer

pen

paper

budget records
Warning
Be careful not to overestimate income projections Don't underestimate expenses. Round up budget amounts.