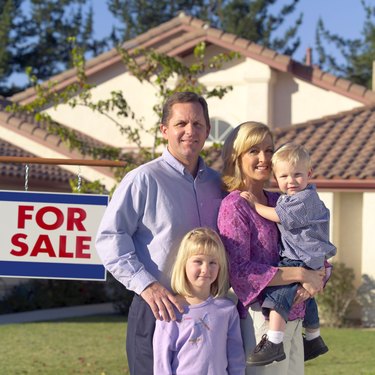 People have watched their home's value plummet since the real estate crisis of 2008 and 2009. In fact, as of July 2011, real estate values remain low and many homeowners are still upside down in their mortgages. Calculating your home's current value can help you determine how far underneath your mortgage you are. Your home's value is dependent upon numerous factors.
Step 1
Assess your home's current condition. Is it up to code? Is it in need of many repairs? Did you just have remodeling work done to it? All of these factors contribute to the value of your home. Be honest with yourself, if your home is in really great shape its value should be higher; if it's a fixer-upper, the value will go down.
Step 2
Write down the size of your home, the size lot it is built on and how old your home is. Look around your neighborhood. The property values all around you affect your home's current value. If a similar house in your neighborhood just sold, find out how much it sold for. Check and see what other similar properties are being listed for in your neighborhood as well.
Step 3
Use an online tool such as the Federal Housing Finance Agency's HPI Calculator. Go to FHFA.gov and click on the House Price Index menu at the top of the page. Select "HPI Calculator." Select your state from the drop-down menu, select your purchase and valuation quarters from the next two menus and fill in the purchase price of your home. Click the "Calculate" button. Note: This calculator's valuation periods only go back as far as 1991.
Step 4
Hire a professional appraiser to come and appraise your home if you are looking for more than just a ballpark figure. An appraiser will inspect your home and property and give you a detailed valuation of your home. The appraiser might also be able to give you some professional suggestions on how to raise the value of your home and property.
Warning
If you self-appraise or estimate your home's value, don't be surprised if your actual value is lower or higher than your number.