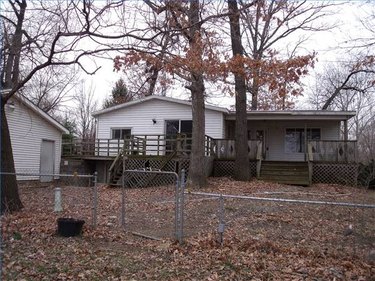 Identify House Auctions
Buying your new house at a house auction might result in the great deal you have been hoping to find. Auction signs placed in the yard typically give the date and time of the auction, as well as the dates and times prior to the auction when the house will be open for viewing. You may also see smaller signs at each end of the road that say, "auction" with arrows pointing toward the house. If you are serious about purchasing an auction house, or just want to do your homework first, call area auctioneers and ask to be placed on their mailing list. You will receive detailed fliers, well in advance of upcoming house auctions. Notices are usually placed in local newspapers about one week in advance as well.
Attending a House Auction
Arrive at the house auction at least 30 minutes before it is scheduled to begin if you intend to bid on the house. You will need to show your identification and receive a bidder number. Allow the auctioneer to drop the price as low as possible before starting the bidding. To raise or accept an amount that the auctioneer is calling out, raise your number high into the air. Know in advance what your high bid will be so you can avoid being caught up in the drama of bidding and pay more than you can afford. Keep in mind that the high bidder, the person who wins the auction, will have to add 10-percent to the bid to pay the auctioneer. Adding the commission to the total price has become common practice in house auctions. For example, if the winning bid is $100,000, the winner will actually owe $110,000 to cover the commission. A set amount, usually 10 percent to 20 percent is due at the close of the auction from the high bidder.
Financing
Talk to your lender several days before attending a house action to arrange financing if you are serious about buying the auctioned house. This will let you know in advance the most that you can bid at the auction. Your lender may come through the home during one of the open houses to confirm the value for you. You usually need to put down about 10 percent at auction end, and pay the balance in full within 30 days, although these may vary so read the house auction brochure or ask the auctioneers. As with any home purchase, you will attend a closing probably in about 30 days. This period allows for title work and financing. You may request immediate possession at closing, or you may be allowed access after the auction if the house is vacant.