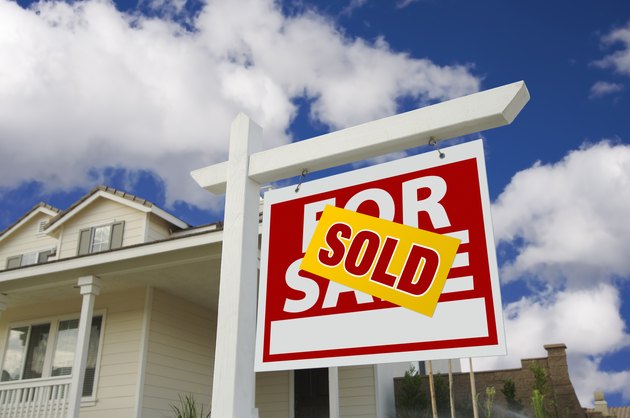 Age, lifestyle changes and income all can factor into a homebuyer's decision to shun monthly mortgage payments by paying cash, a trend that the industry attributes to market competition and reluctance to submit to the loan application process. More than four out of 10 homes sold nationwide during the first three months of 2014 were cash buys, according to RealtyTrac statistics cited by The Des Moines Register. Those who can afford to pay cash for real estate follow a streamlined process that differs from mortgage-financed purchases.
Transaction Speed
When you decide on an all-cash real estate purchase, you can devote time to house hunting instead of shopping for a lender, completing a loan application, and providing proof of income. You can make an offer, have it accepted, and close in less than two weeks, rather than the six or more weeks needed for a financed deal. By keeping a bank or federal loan guarantor such as the Federal Housing Administration or the Department of Veterans Affairs out of the picture, you can avoid waiting for the time-consuming appraisals and inspections that mortgages require for termites, radon gas or lead paint. Working with a buyer's agent can make your search more efficient and the contract negotiations less trying.
More Buying Power
Your agent needs to know your price range. As a cash buyer, you may find you have more money to spend than you thought. According to Forbes.com, paying cash means you don't need several thousand dollars to cover fees for mortgage application, loan origination and bank attorneys. You can use this savings to cushion your purchase budget and give your agent a broader selection of properties to show you. You may discover you can afford a better neighborhood or a home with more amenities than you originally planned.
Better Bargaining Power
When you find a property that interests you, your real estate agent can help you gauge the seller's openness to negotiate and then prepare your offer. Cash buys are attractive to sellers who otherwise must take their property off the market and wait for the mortgage approval. Your can use your check-writing ability to negotiate a more favorable deal. Sellers may accept a low offer and be more open to make repairs and agree to other terms in exchange for a speedy sale. Paying cash also can give you an edge when facing a bidding war in a competitive market because your offer doesn't hinge on a mortgage or home sale contingency, but you should be prepared to provide the seller proof that you have enough liquidity to back your offer.
Peace-of-Mind Options
Eliminating inspections and appraisals may shave weeks off of the time needed to finalize a real estate sale, but you have the option to request them, if only for peace of mind. According to realestate.com, cash buyers who skip an appraisal risk paying more than market value. Those who opt out of an inspection arrive at closing armed with less information about potential home improvement expenses than mortgage borrowers. You can ask your agent to add appraisal and inspection contingencies to your offer. You can also ask the seller to assist with inspection costs.
Closing Preparation
Your agent can advise you of your state's closing requirements, but having legal representation at closing is an option that realestate.com recommends for cash buyers. A cash closing involves less paperwork, but you still need an experienced professional such as a closing attorney to conduct a title search, prepare the title transfer and contract documents, and arrange the method for funds transfer to the seller. For example, you could present a cashier's check for the purchase price or have the money wired into an agreed upon account.