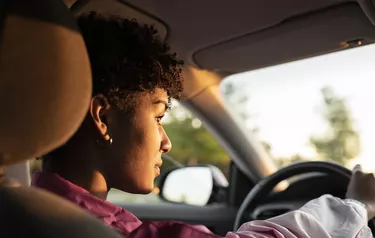 Signing the title over to an insurance company can seem daunting when you've been in a car accident and your car is totaled. However, it's not that difficult. While there are many steps to signing a title for an insurance company, it doesn't have to be complicated. In all cases, you'll need the title to your car, so make sure you can easily find that.
Remember that each state has individual laws regarding car titles, so check with your local DMV for specific instructions. There may be certain documents you need. Your insurance company will work with you to provide you with a list of what important documents are needed to sign over the title.
Knowing Your Car Is Totaled
How do you know your car is totaled? In general, a car is considered to be totaled when the cost to repair it exceeds the value of the car. The Insurance Information Institute provides a warning that you should keep in mind: Insurance may not cover the car's total cost depending on your policy.
The first step after an accident is to call your insurance company and explain what happened. Your company representative will ask you some questions about the accident and then send an adjuster to inspect your car. Sometimes, they'll ask you to go to a mechanic licensed by the insurance company to have your car surveyed. This adjuster will assess the damage and give you an estimate of what it would cost to repair your car.
If the adjuster determines that it would cost more to repair your car than it is worth, your car is totaled. Your insurance company will give you a check for the value of your car, subtracting any deductible you may have. Once your car has been officially totaled, know that you can repurchase it to sell it privately.
Signing the Title Over to an Insurance Company
Once you have received the check from your insurance company, you will need to sign over the title of your car. If you're wondering where to sign the title when the car is totaled, you can sign it by filling out a simple form available from your local DMV. Sometimes, you may not currently have the title to your car. In this case, you will need to get a duplicate title from your local DMV.
Obtaining your duplicate title may entail going to the DMV, or you can order it online in some states and have the title mailed to you. Once you have the title, you will need to sign it over to the insurance company. Some states, like the State of California DMV, have minimal fees to transfer a car title to an insurance company.
To sign over the title, use the form on the title. Signing it over to an insurance company is the same as signing it over to a private owner. After you have signed over the title, the insurance company will send you a release of liability form. This form releases you from any responsibility for the car once it has been totaled. This situation may be temporary or permanent.
Getting the Most From an Insurance Claim
A few crucial steps ensure you get the most money out of your insurance claim. First, you must take pictures of your car's damage before it is towed away. These pictures will serve as documentation for your insurance company. You should also confirm that the insurance company has the most accurate details regarding mileage.
Second, get multiple estimates for the repairs that are needed. The insurance company will usually only give you one estimate, but it's always a good idea to get a second opinion.
If you feel like the insurance company is lowballing, you can use the second estimate to negotiate a higher payout. Finally, you shouldn't be afraid to ask for more money than what the insurance company offers you. It will typically start with a low offer, and it's up to you to negotiate for a higher payout. If you follow these steps, you should get the most money possible from your insurance claim.