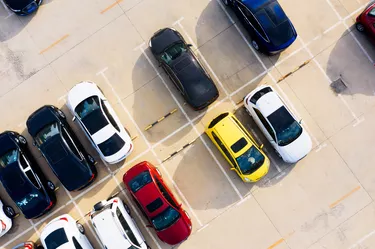 You've returned to the parking lot where you left your car, and it's not there. You're not in a tow-away zone, so you know that's not the problem. You realize it could be stolen. What do you do?
Look up the nearest precinct on your phone and call the police to report your stolen car. Don't call 911 because a stolen car is not an emergency. The police will check to see if your car was towed for a violation. If it wasn't towed, they'll come to you so you can file a stolen vehicle report.
If you can, have the license plate number and vehicle identification number (VIN) available for the police. You'll also need to provide your car's make, model and color. In addition, report the last time you saw your car and where it was.
Let the police know any names or information of anyone who had access to your car. You'll also need to provide a list of any valuables in your stolen car. Try to narrow down the time of the theft and let the police know.
Call Your Auto Insurance Company
Report to your insurance company that your car was stolen. You'll need to submit an insurance claim. Have a copy of the police report available. If you have comprehensive coverage on your insurance policy, your loss should be covered. But comprehensive coverage is optional, so make sure you have it. If you have this insurance, you'll still need to pay a deductible.
Let your auto insurance company know if personal items were stolen with the car.
In general, there's a 30-day waiting period before your auto insurance will pay a stolen car claim.
Also, if you have renters or homeowners insurance, call them about any valuables stolen. Sometimes, there is coverage for stolen personal items in a car through this type of insurance.
Notify Financing or Leasing Company
Contact your financing or leasing company. They will be the ones receiving the insurance settlement for whatever balance your loan still has. After the insurance company has paid the claim to your finance or leasing company, any remaining funds are yours.
Report your stolen car to your state's Department of Motor Vehicles (DMV). There is usually a time limit, so make it a priority. Go to your DMV's website to learn the process. You'll probably need to fill out a form and provide a police report.
Track Your Stolen Vehicle
A GPS tracker in your car will let you track where your car has been taken. You can also use a free VIN check tool from the National Insurance Crime Bureau.
What Is the Insurance Claims Process?
Once you report the claim to your insurance company, there is a waiting period. In general, there's a 30-day waiting period before your auto insurance will pay a stolen car claim. The reason is to allow time for the vehicle to be found.
If you have comprehensive insurance, it will pay the actual cash value of your car. That means you or your finance company will receive what the car is worth, not the replacement cost.
What if the Car Is Found?
If the car is found but damaged, an insurance adjuster will determine whether the vehicle can be repaired or is a total loss.
One of the requirements for reimbursement is signing over the title to the auto insurance company. If you've been paid and the car is found, the insurance company owns it. The insurance company could sell it at an auction or for salvage, depending on its condition.
If you want your car back, depending on your state laws, you could buy back the car from the insurance company.