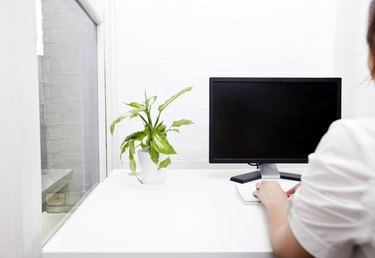 Mortgage companies that engage in predatory lending practices, such as coercion and foreclosure scams, are breaking the law. If you've been the victim of housing discrimination, predatory lending, or your mortgage company fails to follow appropriate billing and accounting practices, contact the Department of Housing and Urban Development for help. HUD will direct you to local resources if your mortgage is not federally backed by the government. A local consumer protection agency can investigate and mediate your grievance, or a federal or state authority may handle the complaint.
Step 1
Write a letter to an authority that handles mortgage lending complaints. Agencies such as the Federal Trade Commission and Consumer Financial Protection Bureau allow you to file complaints online. Other offices may provide a standardized complaint form to fill out and submit online or by mail.
Step 2
Provide your contact information including your name, mailing address, telephone number and email address. The authority that will handle your case may need to contact you with further questions or requests.
Step 3
Give the mortgage company's business name, mailing address, telephone number, website and email address. You can find the information on your monthly mortgage statement. Include the name of the loan officer who arranged your mortgage loan. The name of the individual who was primarily responsible for originating the loan should appear on the loan application.
Step 4
Explain the problem in your own words. List the specific dates of the events in the order in which they occurred. Give the names of other individuals you contacted in an effort to resolve the issue before filing a formal complaint.
Step 5
Attach photocopies of documents such as your mortgage agreement, mortgage statements and correspondence that support your complaint. Provide any information that will help the agency understand what happened, especially if you think the mortgage company violated the law.
Tip
If you believe that improper lending practices led to your default or foreclosure, you can get free information about foreclosure programs from a HUD-approved counseling agency in your area.
When you contact HUD with questions or concerns about a loan insured by the Federal Housing Administration, you must provide your FHA case number.
If your state's attorney general, department of banking or real estate commission finds that the mortgage company has violated the law, it will send the case to the appropriate legal authorities for further investigation or criminal prosecution.
Get the contact information for your state's current attorney general by visiting the National Association of Attorneys General website.
Contact the Federal Trade Commission by telephone at 1-877-FTC-HELP. The FTC can't resolve your complaint, but it can provide information on how to proceed with your complaint.
Things You'll Need
Mortgage statement

Loan application

Promissory note

Original mortgage agreement

Copies of mortgage company correspondance