When you finally sit down to do your taxes, reading the tax return form could be a challenge. Sometimes the form seems to have been written in a foreign language, and the instructions can be even worse. However, with a bit of thought and patience, reading, understanding and completing a tax return doesn't have to be an ulcer-inducing experience.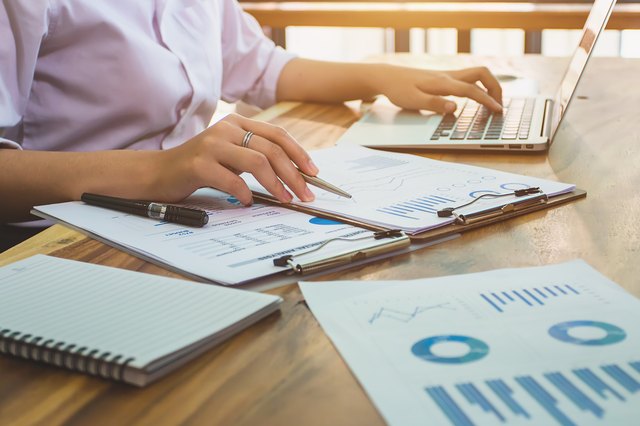 credit: undefined undefined/iStock/GettyImages
Knowing Which Form to Use
There are three forms the IRS issues for tax collection purposes. Form 1040EZ, Form 1040A and Form 1040.
Use Form 1040EZ if you are filing singly or jointly, have no dependents and don't intend to claim any other deductions, i.e., you are going with the standard deductions available to all taxpayers.
Use the next simplest form, 1040A, if you have some deductions such as student loan interest, educational expenses, IRAs, or have a dependent and qualify for Earned Income Credit.
Use the full form 1040 if you have a more complex situation, such as being a small business owner, a freelancer, or having deductions not mentioned above.

Personal Information
All three forms require a taxpayer's personal information at the top of the form. Include your first name, middle initial and last name, address and Social Security number. If filing a joint return, this information is required for your spouse, as well.
Filing Status
On Form 1040A and 1040, select your filing status. This section is not included on Form 1040EZ.
Exemptions for Form 1040 and 1040A
Select the total number of exemptions you plan to claim. Usually, exemptions include the taxpayer, the spouse and dependents. This section is not included on Form 1040EZ.
Income for All Forms
Once you have provided personal information, the form asks for your income. For 1040EZ filers, that is the total amount of income from a W-2. For forms 1040A and 1040, also include other forms of income such as self-employment income, dividends or any income for which you received a form 1099.
Adjusted Gross Income: Form 1040A and 1040
In this section, list all the expenses you want to use to offset your income. This section includes items such as student loans, property taxes, moving, health insurance premiums, and tuition and related fees. You can claim more expenses on a 1040 than on a 1040A, so read over the expenses on each form and decide which is best for you.
Taxes and Credits
On all three forms, record the federal income tax withheld from your pay, your Earned Income Credit if you qualify, your tax obligation (found on the tax table in the instruction booklet) and answer whether you had health insurance for the entire year. The number of credits and taxes you can claim differs on each form.
Refund or Amount You Owe
Once you subtract the taxes you paid from the taxes you actually owe, enter that amount on either the Refund line (you paid more than you owe) or the Amount You Owe line (you owe more than you paid). In the Refund section, you can add your bank account information to have your refund direct-deposited. To grant permission for a third party to discuss your taxes with the IRS, provide the name and contact information for the third party in the next section.
The Signature Line
The primary taxpayer signs the top line and provides a daytime phone number. The spouse signs on the line below the primary. Both should provide their occupations.
Paid Preparer Use Only
If someone else prepared the taxes, such as an accountant, this person signs his name, the date the return was prepared and the firm's information (if applicable).