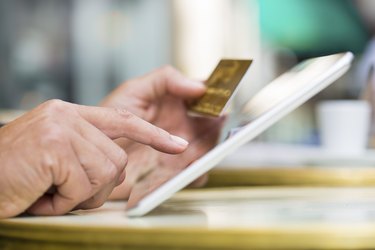 TRW, now called Experian, is one of the three national credit bureaus that capture and score the credit history of consumers in the United States. An established company since the 1800s, TRW consisted of numerous business ventures in various industries. The credit reporting section of TRW became its own entity in the late 1990s and was renamed Experian. Obtaining your credit report from Experian can be done online or over the telephone.
Free Credit Report
Under federal law American citizens are entitled to receive a free copy of their credit report every 12 months from each of the three national credit bureaus, including Experian. You can order it at Annualcreditreport.com, which according to the Federal Trade Commission is the only site authorized to distribute the free annual report. Follow the prompts to fill out the secure online form. You will need to enter personal information, such as your name, date of birth and social security number. The report can be printed or viewed online.
Tip
The annual free Experian credit report must be ordered through Annualcreditreport.com and not the Experian website. If you prefer, you can order it over the telephone.
Experian Direct
There are times when you may need or want to view your credit history more than once a year, such as if you are interviewing for a new job, purchasing a home or checking to make sure your financial information is error free. As of May 2015, the report is available for $19.95 online from the Experian website or through customer service.
Tip
Experian, Equifax and TransUnion are the three national credit-reporting bureaus. Though all three agencies are similar, there can be differences in the data.