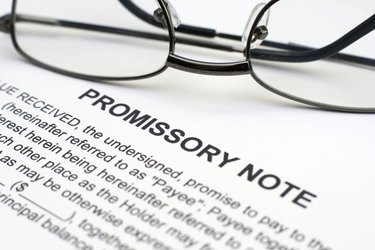 An article by attorney Aaron Larson on the ExpertLaw website describes a promissory note as "a written promise to repay a loan or debt under specific terms -- usually at a stated time, through a specified series of payments, or upon demand." That's not the sort of document you want to write yourself. Rather than engage an attorney to draft the document, download a promissory template.
U.S. Legal Forms offers sample templates of every document by state for free but they are watermarked in a way that blocks text. If you are okay with that, you can use the PDF sample templates to get some of the legal language without coughing up the $14.95 for the full download.
Public Legal Forms, part of the Internet Legal Research Group, also provides an option to choose your form template by state. The advantage of this is the language of the document is much more likely to comply with local laws. You can access the free sample form right on the site, though you also have the option to pay for a more advanced document that includes a Loan Amortization Schedule Calculator in Microsoft Excel format.
Warning
Although the Top Ten Reviews website has both supporters and detractors, the site is at least useful in that it has all of the online legal software sites grouped into a single list, with a summary of what they offer.
There are other sites where you can download forms, but some of them take a bit of finesse.
Law Depot allows customization of important promissory note factors such as its terms, the state where it takes place, secured vs. unsecured, and interest rate. The downside is there aren't many formats available with the free license -- you pretty much get the PDF. The upside is that, rather than purchasing a subscription, you can download a free one-time use of a document.
Tip
PDF documents are fairly simple to edit using Microsoft Word Online. All the Office Online apps are free with any Microsoft account.
Financial guru Suze Orman offers a basic unsecured loan promissory note in Word format. The Resource Center on her website has online financial calculators, explanation of insurance, some forms and information on mutual funds and retirement planning.

FormSwift has an automated question and answer system that is similar to Law Depot. However, with FormSwift, there is no need to download any sort of license. Simply click the button in the upper right of the form to Export Your Promissory Note and choose either PDF or Word format. The export is fast and free.
Warning
Three items to verify on your promissory note template:
Compliance with your states usury, or loan interest, laws.

Some local laws also limit the late fees that can be imposed. Be sure your promissory note complies with local laws.

Promissory notes are typically unsecured, which can be disastrous to the promissee if the loan promisor goes bankrupt. For large loans, consider including security as part of the loan in the form of a tangible asset that can be sold.
Other online legal forms sites such as FindLegalForms.com offer sample documents, but they are view-only and cannot be copied or saved. If you are in doubt about the language of your form, or need to make serious amendments, it's better to pay a bit more and either download the full template with support from the site or engage an attorney.