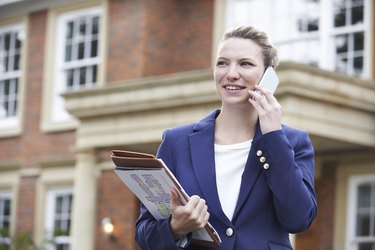 Real estate holding companies have become popular vehicles for individual real estate investors, investor groups and consortiums to accumulate and manage their residential and commercial investment properties. Having a clear strategic plan, the right organization and a clearly defined division of responsibilities between company leaders can go a long way toward ensuring the successful start-up and operation of your real estate investment company.
Step 1
Decide what kind of corporate entity you want for your real estate investment company. Will it be an LLC, a C corporation or a subchapter S corporation? What kind of tax status will it have? There are a variety of pros and cons to each type of structure, and the counsel of an attorney and/or accountant well-versed in corporate law is a must. It's especially good if they specialize in or have significant experience with the vagaries of real estate investment. Such professionals might be expensive, but being poorly organized can lead to problems that are far more costly and burdensome later on.
Step 2
Determine what kind of real estate investing your company will engage in. Are you going to invest in residential or commercial real estate? If residential, will you purchase houses, duplexes and apartment buildings or single family homes? What kind of taxes and regulations do real estate investors have to deal with in the area you plan on acquiring properties in? Are you going to only attempt to buy real estate in healthy areas at market prices, or are you going to specialize in foreclosure or tax lien investing, in which you might be willing to acquire less well-maintained properties in exchange for a discount? Are you going to exclusively invest in property in your local area, or are you willing to invest and operate properties out of state or even out of the country? It's also important to fundamentally decide whether or not the main reason for your real estate purchases will be capital appreciation or rental income. Obviously, all investors would like both. They'd like to buy a property, hold it for 10 or 20 years while it appreciates and collect rental income the whole time. But oftentimes there is a trade off between income or appreciation-based investing, and you should closely study the pros and cons of either while establishing the strategy of your real estate investment company.
Step 3
Determine your capital situation. How are you going to finance your real estate purchases, and how are you going to finance the costs of real estate taxes, property management and other incidental administrative costs that inevitably make their presence felt? Will you put down a small amount of capital and accept higher monthly interest payments or invest more to begin with to lower your financing expenses and improve your cash flow situation? Carefully run through a variety of scenarios and how they might impact the overall value of your properties and your total cash flow situation. How much is coming in from rental or other property-derived income versus how much is going out? For example, if you own ten single family rental properties and three tenants stop paying, will you have enough intake from your other properties to service your debt and handle the expenses of operating all the properties together? If you encounter sudden liquidity problems, do you know where you would turn to for operating capital? Would this capital be made available to you in a timely fashion and at rates that wouldn't cripple your business? Also consider how you would respond to good unexpected developments, such as another investor offering to buy your property at a 10 percent premium only six months after you acquired it. Would you hold out for more? Refuse the offer outright and continue collecting rental income? Or take it and be subjected to higher capital gains taxes?
Step 4
Assemble a competent management team to handle affairs at your company. Decide whether or not your company is going to personally manage the properties acquires or if it's going to farm out those duties to professional management companies. When you're first starting out, the administrative chores might be small enough for the founders to handle, but as the company expands, you're going to want to bring on-board managers you can rely on to help execute the strategic vision. Be sure that these managers understand and are in agreement with the broader strategy of your company, while allowing them enough tactical flexibility to make quick decisions themselves in the heat of battle.
Step 5
Develop relationships with real estate agents and brokers in territories and categories your company plans to concentrate in. Their on-the-ground perspective could prove invaluable in ferreting out hidden gems, as well as warning you away from potentially disastrous money pits. Keep in mind that the main goal of real estate agents and brokers is to sell property as fast as they can and for as much as they can, so you might have to take their advice with a grain of salt. But if you clearly demonstrate to them that you're knowledgeable about the area and not one to be easily taken for a ride, they'll probably be honest with you and seek to clue you into to good or at least fair deals in order to get more business from you.