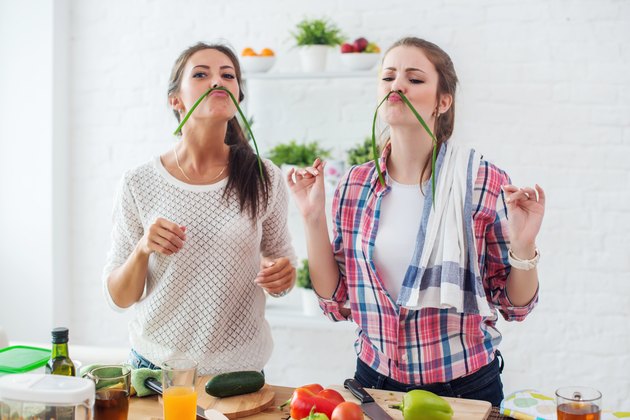 When I looked at my family's budget, I was shocked at how much we were spending on food each month, but I couldn't understand why. I carefully planned meals each week. We rarely deviated from the menu. We didn't eat out very often. Why were our costs so sky-high? I went digging for a little inspiration in my old budget worksheets that I kept filed away from my college years.

Back then I lived with $50-75 a month in my food budget, and still managed to get by. I certainly eat a lot less $1 frozen pizzas and off-brand golden puffs than I did back in the day, but maybe there was something I was missing there from my uber-frugal college days.

As soon as I started to look at my old budgets, I realized inflation wasn't to blame - my diet was. I spent my college years as a strict vegetarian, which inadvertently kept my food spending in check. Keeping a low food budget and living on less helped me get through college debt-free, because it was one aspect of my budget I always had immense control over.

I began going back to some of my favorite vegetarian meals, and was pleasantly surprised as I watched my food spending plummet. Taking into account the habits I adopted during my college days made sure I followed these rules for keeping my vegetarian meals budget-friendly.
Keep it simple
When I was a vegetarian, I was also working full-time and going to college full-time, so by necessity, my meals were simple. When you're trying to incorporate more vegetarian meals into your diet, there is a bevy of options to choose from - from complicated pad thai to the ultra-easy grilled cheese. Usually, the simpler the meal the less expensive it is, because you aren't buying lots of different or hard to find ingredients.
Stock up on staples
I noticed on my budget that my first trip of the month was usually the most expensive because I was stocking up on staple ingredients like pasta, quinoa, rice, and eggs. Having a few simple bases for your go-to vegetarian meals makes meal prep easy, and your options endless. Quiche was always a flexible favorite of mine.
Reuse ingredients
When I planned my vegetarian menus, I made sure none of my food went to waste. If I bought a bag of carrots I'd whip up carrot cake muffins for breakfasts, use them in a coleslaw for lunch and have roasted carrot fries with dinner. Using ingredients in multiple meals means you're buying and wasting less.