Eggs are one of the best things you can eat when you're on a budget. You get a lot of protein and vitamins for just a little bit of money. Of course everyone knows about eating eggs for breakfast, but what about eggs for dinner? Here are some suggestions for incorporating eggs into a heartier dinner meal.
1. Bacon and egg cheeseburger
Fry an egg in a non-stick skillet over medium heat until egg whites are just set, but yolks are still runny. Place on top of a cheeseburger, along with crispy bacon strips.
2. Roasted chicken and cranberry salad
Slice hard-boiled eggs and add to fresh spinach leaves, toss in fresh cranberries and roasted chicken for a protein-packed salad.
3. Egg-stuffed baked potatoes
Slice a medium-sized baked potato in half, and scoop out the middle, just enough to make an egg-sized hollow. Crack an egg into each of the potato halves, and sprinkle with black pepper. Bake at 350 degrees for 10 minutes. Sprinkle with bacon bits and cheddar cheese, then bake at 400 degrees for 5 minutes, or until egg whites are set and cheese is melted. Serve warm.
4.  Sausage and potato frittata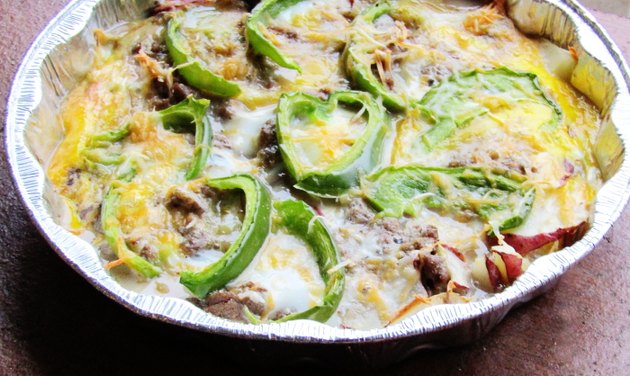 1 medium sized potato, thinly sliced
1 small onion, thinly sliced
1 cup ground turkey sausage
Directions: In a large skillet over medium heat, brown the sausage, potatoes, and onions. Meanwhile, crack the eggs into a large bowl and blend the whites and the yolks together, until just quite mixed. Try not to over blend. Once skillet ingredients are cooked, pour the egg mixture over the top and cook until eggs are just starting to set around the edges, 5-7 minutes. Add sliced peppers and shredded cheese on top. If the skillet is oven-safe, you can then transfer the whole skillet to the oven, otherwise, gently slide it all into an oven-safe baking dish. Bake at 350 degrees for 15-18 minutes, or until eggs are set.