If you only have a few dollars to spare and just a few minutes of time before your big party or potluck, don't be a dip - make dip! They are easy enough for beginners, and also easy on your wallet.
Simple Spinach Dip
You can gather all you need to make this dip for under $5 and it will serve 10 people.
1 1.0 oz packet onion soup flavoring
Directions: In a large bowl, mix together sour cream and onion dip powder until well blended. Press and drain spinach, removing as much water as possible. Stir spinach into dip until well blended. Serve hot or cold, with bread, crackers, or chips.
Southwestern Chip Dip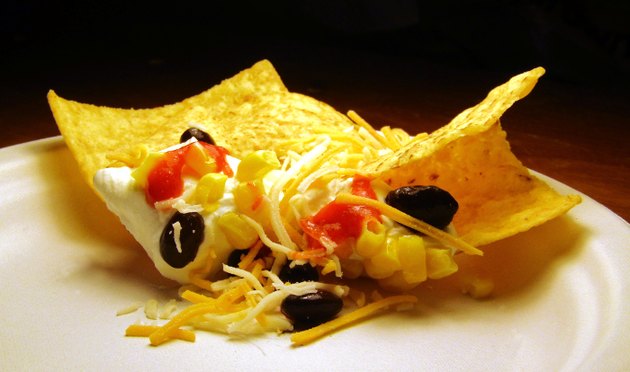 This is also super cheap at right around $4 for 8 servings.
1 cup canned black beans, drained
¼ cup canned corn, drained
½ cup shredded cheddar cheese
3 tbsp hot sauce or salsa
Directions: In a large bowl, blend all ingredients until well mixed. Serve hot or cold with tortilla chips.
Baked Pizza Dip
Technically, this under $4 dip will serve 6 people, but let's be real: You're eating it all yourself.
2 cups shredded part-skim mozzarella cheese
Directions: In an oven-safe dish, stir together marinara sauce and shredded cheese, until cheese is coated with sauce. Stir in half the pepperoni, then smooth out the top of the mixture. Top with another layer of pepperoni slices, like a pizza. Baked at 350 degrees for 15 minutes, or until cheese is well melted. Serve hot with tortilla chips or crispy toasts.
Chocolate Peanut Butter Cookie Dip
This dessert dip will serve at least 8 people and will cost you less than $3.
1 cup whipped dessert topping, thawed
Directions: In a large bowl, stir together peanut butter and dessert topping until well blended. Smooth out the top of the dip, and top with chocolate chips. Serve at room temperature with cookies, pretzels, or apple slices.
Luscious Lemon Cookie Dip
This is the cheapest thing ever, ever, ever and makes 16 servings. 16! For right around $3.
2 cups whipped dessert topping, thawed
Directions: Scoop whipped dessert topping into a large bowl. Slice lemon in half, and squeeze juice onto dessert topping. Whisk together until well blended. Serve cold with butter cookies, or use as topping for pancakes or crepes.