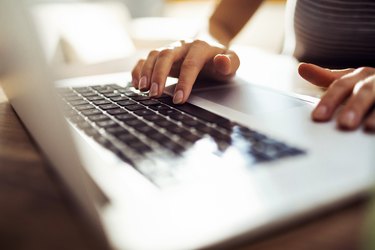 Electronic checks – often abbreviated as e-checks – take the hassle out of writing paper checks and having to send them through the mail. Most banks, creditors and online payment sites allow you to pay your bills using the e-check option. The two most important items you need to have when submitting an electronic check online are your account number and your bank's routing number. Here's what you should know to write a check online and complete the process securely.
To make a payment online, fill in the fields with the specific information based on the site from which you make the payment. In the fields listed, add the creditor's name – if paying from your online bank account or a payment service site – the amount being paid, the date you would like the bill posted and the bank's routing number – the ​nine-digit​ number to the left of your checking account number on the bottom of your checks.
If you don't have a check handy, you can also find the routing number by checking your bank's website. You might find it through the online banking portal by checking that account's information, or you may do an online search for the bank to find the routing number for your particular bank and region.
When you write a check online, include any notes or invoice numbers in the appropriate fields. Authorize the payment and sign the e-check by typing your name or initials in the field provided.
Sending Payments Through Online Banking
Online banking allows you to make bill payments from your checking account with a secure Internet connection. To write electronic checks online, bank and payment sites require you to enroll and agree to their terms of service. As long as you know the bank's routing number and your account number, writing an e-check is straightforward. Some sites even include a notes field when writing an electronic check that allows you to provide additional information.
Sending E-checks to Creditors
To send an e-check to a creditor, select the option on a creditor's website to pay by an electronic check. As each creditor's site is a bit different, the fields you need to fill out will vary slightly. Have an invoice number handy for reference or type it into the appropriate field. If you don't know your bank's routing number, visit their site for that information or complete a search online.
After making an online payment, creditors provide you with a confirmation number that indicates a successful payment. Save this page to your computer or print it out for your records.
For security, verify that the company handles your financial transactions over an encrypted and safe website. Websites with these security features usually display a small closed-lock icon in the address bar. As long as you verify the site is secure, your personal banking information should not be at risk.
Never respond to an email request for your banking information. Reputable websites do not ask for passwords or account numbers in an email. If you receive such a request, contact the site's webmaster or forward the email to the appropriate department that investigates these attempts.