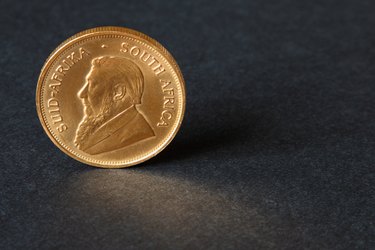 The Krugerrand is a popular gold coin that is minted in South Africa and distributed to buyers around the world. Krugerrands contain 22 karat gold, an alloy of 91.67 percent gold and 8.33 percent copper. You can easily buy and sell Krugerrands at your local coin dealer or on the Internet, but must make sure you identify, price and ship your coins properly.
Selling Instructions
The price you'll receive depends on current gold prices, the size of the coin -- sizes range from 1/10 to 1 troy ounce of gold -- and the type of mintage. Krugerrand 1-ounce bullion coins have 160 serrations on the edge. You sell these for the value of their gold content. A proof version of the same coin has 220 serrations and commands a premium price. Check current prices at local dealers that purchase gold and on the websites of reputable gold dealers. Most dealers pay for gold bullion at the spot rate. The dealer you select will lock in a price that requires you to ship the coins within 24 hours or sooner.
Shipping Instructions
If you sell to a dealer who is not local and requires you to ship your Krugerrands, pack the coins in plastic cases or tubes. Next, place them in a cardboard shipping box, tightly fill it with packing material, and seal it with paper tape. Ship the coins via the U.S. Postal Service as registered insured mail and insure for the full amount. The insurance limit is $25,000 per box. Email or phone the registration number to the dealer. Once the dealer receives and verifies your shipment, it will either mail a check or electronically deposit funds to your bank account.