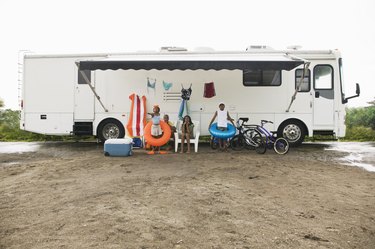 You have found the perfect RV for your family. It has all of the features and room you need to take to the open road. Just one thing stands in your way: the price tag. If you find yourself in this position, the answer is to visit your bank for financing. If you can prove your creditworthiness and show that you have the funds for the payments, you can finance your RV purchase with a simple interest loan that gets you behind the wheel and on the road to your favorite campground quickly.
Step 1
Order a copy of your credit history. The bank will want to see that you have a solid credit score, so know what yours is before you seek financing. Make improvements if necessary. The better your credit score, the lower the interest rate on the loan.
Step 2
Gather money for a down payment. While some banks will offer "no money down" options, Woodalls.com cautions that most lenders want a minimum down payment of 10 to 20 percent when financing an RV purchase.
Step 3
Call the banks in your area to learn what options they have for RV financing. Then, visit the dealership to learn what their options are. Choose the financing that has the best interest rate combined with low fees and reasonable terms.
Step 4
Speak with the chosen lender about the length of the loan. Most lenders will offer RV loans for up to 20 years. Choose a loan term that will give you payments you can afford.
Step 5
Show the lender your proof of income, such as your tax returns for the past two years. They need to see that you have sufficient income to make the monthly payments.
Step 6
Fill out the paperwork for pre-approval. This will help you know how much you can afford to spend and also give you a bargaining tool when you head to the dealership.
Tip
If you plan to use this RV as a steppingstone to upgrade to a bigger rig down the road, choose a shorter term financing option, so you do not have a large loan balance to deal with when you sell your rig and move up.
Warning
Always read the fine print on the loan. While most RV loans are fairly straightforward simple interest loans, you want to be sure there are no prepayment penalties or hidden charges or fees.