Once the symbol of college dining, ramen is now the biggest thing in gourmet dining. On the search for a middle ground that doesn't involve eating noodles out of a plastic cup or paying $30 for a bowl of broth, I decided to spice up my instant ramen with fresh ingredients, turning it into a restaurant worthy meal.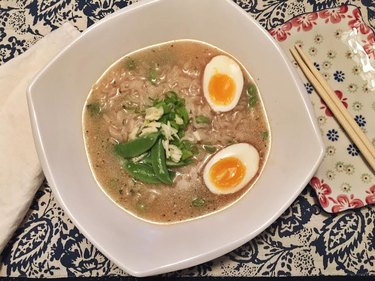 The trick to a restaurant style ramen dish at home has two components. First, you need fresh vegetables and secondly, a "ramen-style" soft boiled egg. A ramen egg gets its flavor through marinating the boiled egg in a soy sauce marinade. The longer you marinate, the more flavorful the egg. The egg yolk of a ramen egg should still soft and runny, while the egg whites are cooked through and firm.
DIY gourmet instant ramen has no limits. You can mix and match vegetables indefinitely, adding hearty greens like spinach, bok choy or seaweed for substance and flavor. Garnishes such as chile oil, garlic, and sriracha give it some kick, but If you want to take your ramen to the next level, cook up some tofu, chicken, or pork to mix in.
The recipe below is the basic model to play off of. In need of more inspiration? Check the menu of your local shop and re-create the dishes they serve. No shame in the fugal noodle game.
Ingredients:
1/4 cup frozen or fresh shelled edamame beans
1/4 cup sliced scallion, green part only
1 clove of garlic, finely chopped
1/4 teaspoon toasted sesame seeds
Instructions:
1. Mix soy sauce, mirin, and water together in a plastic bag. Set aside.
2. Boil egg for 6 minutes to achieve the perfect soft boiled egg. Immediately place egg in ice cold water.
3. Peel egg and add to the marinade from step 1. Let the egg soak up the goodness for at least 2-3 hours.
4. Follow instructions on instant ramen packet, but skip adding the packet of dehydrated vegetables.
5. Add the edamame beans and corn to the noodles and cook according to instructions.
6. Transfer everything to a serving bowl.
7. Take the egg out of marinade and slice in half and add it to your bowl of ramen.
8. Garnish with bean sprouts, garlic, and toasted sesame seeds.
Ramen is supposed to be slurped and finished within minutes, when the noodles are still hot. Traditionally this means no talking while eating! Once the noodles are finished, bring the bowl to your mouth and drink the savory broth.
I don't blame you if you take your time to savor the delicious—and money conscious—meal you made, but slurping is a must.