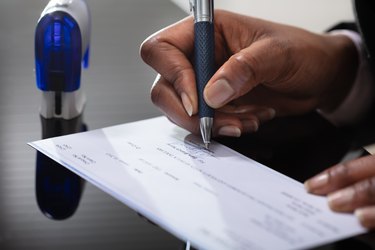 If you owe money to the Internal Revenue Service for your income taxes, you can pay the IRS with a check or money order. Make sure your IRS payment by check includes the information the tax agency needs to associate you with the payment and that you are sending the check to the IRS at the right address. There are also options to pay online, wire money to the IRS and even pay in cash.
IRS Payment by Check
If you need to pay money to the IRS, you have the option of paying by mailing a check. The IRS advises you to make your check payable to U.S. Treasury and make sure the check isn't stapled or paper-clipped to your return or other documents.
You should make sure your check includes your name and address, a phone number where you can be reached during the day, your Social Security number or other taxpayer identification number, as well as the tax year and tax form with which your payment should be associated. Your contact information may be preprinted on your checks, and you can add the other information to your check's memo field.
If you're using a money order rather than a check, follow the same instructions.
Since your check will have your Social Security number, contact information and bank account information on it, make sure to handle it securely until you mail it.
Where to Mail It
Once you have the check written out, check the IRS website to figure out where to mail your check. It varies based on what tax form the payment is associated with and which state you live in. If you don't see instructions that pertain to your situation, contact the IRS for help.
If you received a notice from the IRS, follow the instructions on that notice.
You may want to use a United States Postal Service product that will give you confirmation that the IRS has received your payment and return or that it was sent. The IRS considers returns filed on time if they are mailed by the due date. You can get a certificate of mailing service from the Postal Service that will attest to when papers were mailed or get a return receipt that will show when it was received at the IRS.
Send a Payment Digitally
You don't have to pay the IRS by check. You can also pay online using a bank account or a debit or credit card. If you pay by card, fees will typically apply.
When you file your return, you can also provide bank account information specifying where funds should be withdrawn to cover your tax payment. If you work with a tax preparer or use tax prep software, this should be an option, or you can specify it on a paper tax form. This is also an option if you are getting a refund from the IRS and need to specify where to send it.
You can also have your bank wire money to the IRS if you need to do so. Contact your financial institution for details. Your bank may charge a fee. If you are sending $100 million or more to the IRS, you can't send a single check, although you can send multiple checks or have the money wired.
Pay in Cash
You can also pay the IRS in cash if you prefer to do so. You can pay through retail stores, such as convenience stores, for a fee. Some IRS offices may also accept cash payments.
Set up an account online to pay the IRS by cash and then follow the instructions to arrange payment.
Watch Out for Scams
Fraudsters sometimes impersonate the IRS and demand payment of bogus taxes and fees. If you are contacted by someone claiming to be the IRS, don't panic, even if the person on the phone threatens prosecution or jail time.
Reach out to the agency directly to confirm the contact was genuine.