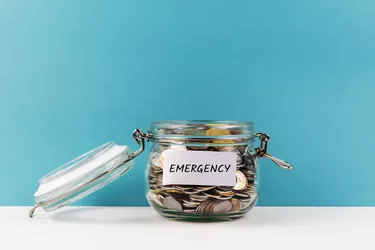 Do you have enough money to cover an unexpected expense? For many U.S. adults without an emergency fund, one ​$400​ unexpected expense will leave them financially strapped. There are a few easy ways to start setting money aside for an emergency, including selling items and cutting back on spending.
Budget for Emergency Fund Savings
Budget planning is one of the best ways to improve your chances of success in reaching your financial goals. As you're drawing up a budget each month, put emergency savings as a line item along with food, housing and minimum payments on loans. Keep the funds in a dedicated emergency fund savings account to avoid tapping into it for regular expenses.
In addition to setting money aside each month, put any extra cash you receive toward your emergency fund. Set a savings goal that makes you comfortable, whether it's ​$400​, ​$1,000​ or more, and focus your attention on that until you've reached it. This will keep you from relying on credit cards for unexpected expenses while you work on paying off your debt.
1. Make Savings Automatic
When you're in the trenches, it can be tough to force yourself to put money into your emergency savings account. It's just too easy to say you'll save with the next paycheck or the next. Soon, a full year has passed and you're still relying on credit cards when emergencies pop up.
That's where automatic savings can help. Most lenders now have autosave features to help you set money aside. You can also find personal finance apps that will automatically round up every dollar you spend and put the excess into savings. When you build your emergency fund in the background, you're more likely to see that balance grow.
2. Reduce Your Living Expenses
One of the best ways to squeeze extra money out of each paycheck is to reduce the amount coming out of your checking account each month. Look for little ways to save money, starting with your everyday expenses. Eating at home rather than dining out can cut costs, as can buying in bulk or clipping coupons.
Another way to save is to cut down on the interest you're paying. If your student loan or credit cards have a high interest rate, look for ways to refinance those loans or transfer your card balances to lower-interest options. Keep track of the money you're saving and move those funds directly into your emergency savings.
There are a few easy ways to start setting money aside for an emergency, including selling items and cutting back on spending.
You don't have to cut corners to boost your savings account balance. There are things you can do to pull in a little extra money each month. Set up automatic transfers to savings for all that extra income until you have enough money to cover unexpected events.
Here are a few things you can do to generate a little extra income each month.
​Take another job:​ Chances are, there's only so much you can squeeze out of each payday. A part-time job or side hustle like delivering food or driving for a rideshare company can help you quickly grow your savings. Set up direct deposit to have those extra earnings go straight to savings.
​Sell unwanted items:​ There are likely a few things around your home you don't need. Generate extra money by putting them up for sale on eBay, Craigslist or a social media platform like Facebook Marketplace.
​Earn interest on your savings:​ If you just toss your savings into a standard savings account, your interest will be pretty low. Look into low-risk investments like CDs or high-yield savings account to maximize your savings.
Life is full of unexpected events that can strain your bank account. With commitment and dedication, you can start setting money aside for those emergencies to reduce your reliance on loans and credit cards.