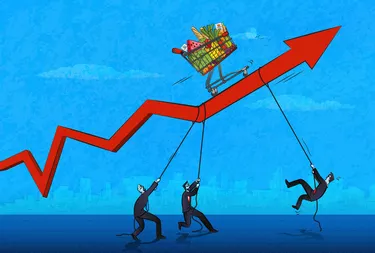 The numbers are scary and we're all feeling their bite. The Consumer Price Index (CPI) – the federal measure of prices paid by consumers for average goods and services over a period of time – climbed ​0.3 percent​ in ​April 2022​. That may not sound like much, but it was in just one month's time. The CPI was up ​8.3 percent​ from what it was last year in ​April 2021​, according to the U.S. Bureau of Labor Statistics.
And bottom line, most of our purchases aren't discretionary. Food and energy are things we can't live without. What's a consumer to do to save money?
Grocery prices hit home when my bimonthly haul cost me $132 more than it had two weeks before. And here's the thing: I more or less buy the same things time and time again. That $132 was spent on pretty much the same exact items. Food prices alone climbed ​10.3 percent​ in April 2022, according to the Bureau of Labor Statistics (BLS), and that doesn't include eating out.
The obvious answer is to make a list and stick to it. Do not grab impulsive extras off the shelf during this time of high inflation. And check out sales in advance. InCharge Debt Solutions recommends avoiding price increases by framing your shopping list around what's going to be cheaper next week. Then go one step further and replace those brand names with generic items, particularly ones like cleaning supplies and trash bags.
You can track your overall tab as you go along if you shop online, deleting or changing out an item or five if your grocery bill is getting too steep. But, of course, services like Instacart mean paying a delivery fee and tipping your shopper/driver. Better to make that list and carve it in stone, then head to the grocery store personally.
Anticipating relief from rising fuel costs might be about as realistic as believing in the tooth fairy, but you're not without options here, either.
Staying Warm, Cool and Clean
Sure, you can install all sorts of nifty (and expensive) appliances in your home to monitor and reduce your energy use but that, too, means spending more money. You can cut back a little with some minor tweaks instead to give your utility budget a bit of a break.
Unplug those electrical gadgets when you're not using them. Yes, they draw some power even when they're turned off. Do what your grandma taught you: Turn those lights off when you leave a room and pull the plug when you're not using something.
Then there's the cost of hot water. No, we're not suggesting that you take cold showers, but you might want to cut your time under the spray nozzle to 10 minutes instead of 20. Consider dialing the temperature down on that load of laundry you're about to throw in the washer too. These measures will help offset rising energy prices.
Anticipating relief from rising fuel costs might be about as realistic as believing in the tooth fairy, but you're not without options here, either. Keep that credit or debit card in your pocket the next time you visit the pump. You could pay as much as ​15 cents a gallon​ less if you use cash for the purchase instead. You can also use apps like gasbuddy to find the best prices at gas stations near you.
Incidental expenses are perhaps the deadliest of budget busters. To keep from plowing through my emergency fund, my solution is a variation of the envelope trick that tells you to stick a month's cash in the envelope, pay for all those little extras from the envelope, and when the envelope is empty…oh, well. Forget that coffee on your way to work.
But cash and I are not on intimate terms. I work from home and live by my debit card. I keep my personal finances in order I allot myself $X on a spreadsheet each month instead, whatever my budget will bear for these extras. I subtract from that amount whenever I make an unnecessary purchase so I know how much of my discretionary budget allotment is left. Now I have $X less to spend on these things through the rest of the month.
The idea is to stay within your budget to get through tough economic times without experiencing utter distress and calamity. Consumer.gov stresses putting regular bills first and paying them on time no matter what. You don't want late fees and extra interest charges piling on, which will cost you more and ding your credit score. The Consumer Financial Protection Bureau provides a spending tracker to help you sort out what you're spending and why.
And finally, don't overlook the value of support from friends and family. We're all in this together. Pool your resources. Share and share alike. Ride it out. This too shall pass.