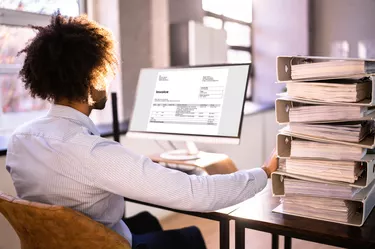 Utility bills can be unpredictable, especially during the warmest and coldest months of the year. Budget billing averages your monthly utility use into one predictable bill, making it easier to plan your spending for the month. But there are some downsides to this option, including having to pay for any overages in one lump sum at the end of the year.
Whether you rent or own your home, you likely spend a good chunk of your income on heating and cooling it, as well as keeping the lights and water on. Although financial experts advise keeping your monthly bill for utilities below ​10 percent​ of your annual income, that can be tough when the amount due can vary so widely.
That's where a budget billing plan can help. Budget billing works by averaging out your annual spending evenly over ​12 months​ to give you a predictable monthly amount. You simply enroll and agree to the terms, which include that you'll pay every month on time to remain in the program.
Your utility company uses a combination of methods to arrive at a monthly payment. Part of that is historic utility usage, but estimated energy costs and predicted weather conditions factor in, as well.
For example, if your typical energy usage led to bills between $150 to $200 a month for the past year, the utility company will total that amount, then divide it by 12 for an average. That total will then be adjusted for factors that might influence the bill. If fuel costs are likely to drive energy bills up in the coming year, your budget billing amount will be higher than last year's average.
Benefits of Budget Billing
The biggest advantage of budget billing is that it levels out your costs. In July, when temperatures push your thermometer to its limits, you won't have to worry about the cost of running your air conditioning. Your electricity bill remains the same whether it's ​100 degrees​ or ​70 degrees​.
Having budget billing also makes it easy to set your monthly budget. Instead of guessing what your heat bill will be during the cold winter months, you'll have one set rate you can jot down on that line.
Disadvantages of Budget Billing
As convenient as a budget billing program can seem at the outset, it's important to consider it carefully before signing up. If your actual energy usage differs from the budgeted amount, you might find yourself with a steeper bill one month. Some electric services reevaluate your energy use every few months and make budget billing adjustments to ensure you don't end up with a big bill at the end of the year.
Budget billing payments can also work against you if it changes your mindset. If you no longer worry about excessive energy usage, you might find that you're paying more each month for utilities later, once your utility provider takes a look at your bill and adjusts it upward.
Budget Billing Alternatives
If you're concerned about utility bills, there are some other things you can do to reduce your cost. First, check to see if your utility company offers payment arrangements for those months that your bill goes over. You might find that your exorbitant bills in July and January, for instance, can be spread out by simply making installment payments.
For those who qualify, many utility companies also provide help with bills. The Low Income Home Energy Assistance Program provides help with utility bills for households that meet the income qualifications.
Budget billing can be a great way to level out your monthly energy bill to eliminate unpleasant surprises. It's important to still moderate your energy use, though and set a little extra aside in case your utility provider sends a bill for overages periodically.