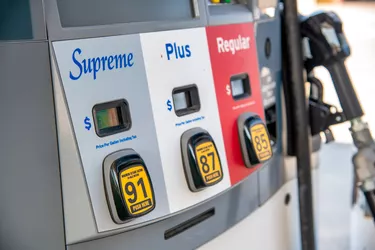 Getting from point A to point B can seriously crimp your budget in 2022 – at least if you're doing it behind the wheel of a car. The national average price for a gallon of gas was a dollar more in February than it was a year ago at that time, according to AAA, and it's continued to rise to record highs since then. New York Senator Kevin Parker blames the untenable combination of the ongoing coronavirus pandemic and Russia's invasion of Ukraine. The war has had a serious effect on Russian oil imports throughout the world.
Some states have begun taking steps to slash their gas taxes in an effort to ease their residents' pain at the pump. The federal government is considering the possibility as well. Depending on where you live, you're probably paying about ​57 cents​ per gallon toward federal and state fuel taxes when you visit the gas station. But if you're lucky, yours is one of the states that's taken steps to reduce that bite.
California Gas Tax Relief Measures
Californians suffer the highest fuel prices in the nation, according to Senator Parker – about ​$1.20 more per gallon​ than the national average. The state's gas tax is a cringe-worthy ​51.1 cents​ a gallon.
Governor Newsom proposed a "gas tax holiday" in December 2021 that would reportedly spare the state's drivers a collective ​$523 million​ or so. Then, a month later, he called for postponing the tax's next upward inflation adjustment. Finally, in March 2022, he suggested an income tax refund of ​$400 per vehicle​ to offset some of the gas tax pinch.
All these measures are still pending as of March 2022. Assemblymember Kevin Kiley suggested suspending the gas tax altogether in March, but the California legislature gave that idea a unanimous thumbs-down.
Florida's One-Month Tax Break
Florida's legislators have scheduled a reprieve from the state's gas tax, but it's not scheduled to begin until ​October 2022​, and it's reportedly for one month only. Supporters of the measure say that the delay until autumn is more likely to benefit residents than tourists, if residents can hold on that long. Florida's gas tax is ​27 cents​ per gallon.
Maryland's Gas Tax Suspension
Maryland Governor Larry Hogan announced a proposal on ​March 10, 2022,​ to suspend the state's gas tax for one month. Maryland's gas tax is ​36.1 cents​ per gallon. Governor Hogan signed the legislation about one week later, on ​March 18​. The tax break went into effect immediately, but it's only for 30 days. Nonetheless, Maryland is the first state to have fully enacted any type of legislation to spare motorists.
Some states have begun taking steps to slash their gas taxes in an effort to ease their residents' pain at the pump, and the federal government is considering the possibility as well.
New York's Gas Tax Holiday
Republican lawmakers in New York began pushing for a gas tax holiday shortly after the first of the year, and some Democrats got on board with the idea in ​March 2022​. Senator Kevin Parker has suggested a long holiday indeed, suspending the tax through the end of the year. Governor Kathy Hochul remains uncommitted, although she's indicated that she'll at least speak with her budget office about how such a suspension would affect the budget.
Numerous other states from Hawaii to Washington to Maine and many in between have indicated a willingness to at least tweak their gas taxes to help American consumers in this trying time.
Connecticut Governor Ned Lamont has suggested suspending his state's tax through ​June 30, 2022​.
Governor Brian P. Kemp signed legislation on March 18 to suspend Georgia's gas tax through ​May 31, 2022​.
Michigan legislators voted to pass a suspension of the state's gas tax in March, but Governor Gretchen Whitmer has indicated that she intends to veto the measure.
New Jersey lawmakers have proposed a ​$500 per household​ gas tax rebate. Governor Phil Murphy doesn't seem to be in agreement with the measure, although he's indicated that he supports a federal gas tax holiday.
President Joe Biden was among the first to take measures to lower gasoline prices last year when he authorized the U.S. Department of Energy to release ​50 million​ barrels of crude oil from the Strategic Petroleum Reserve. He then announced a plan on ​March 31, 2022,​ to draw a million barrels of oil a day from the reserve for six months. But neither of these measures addresses the federal gas tax at ​18.4 cents​ per gallon.
California Representative Josh Harder was among legislators who introduced the federal Gas Prices Relief Act of 2022 on ​Feb. 18​. The Act would create a federal gas tax holiday through the end of the year. Governors from at least six states have indicated their support: Colorado, Pennsylvania, Michigan, Minnesota, New Mexico and Wisconsin. The measure had yet to be approved by Congress as of March 2022, although the White House and the Biden administration are said to support it.