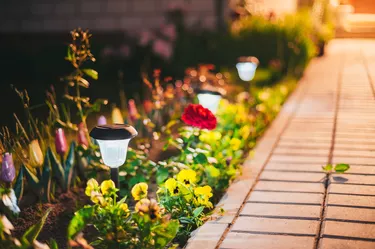 Solar lights do more than save on energy. They also allow installation without any digging or burying of wires. But your lights might not be as bright as electric lighting systems, so they're better as accent lighting.
What Are Solar Landscape Lights?
Lighting your outdoor areas can help with security. Whether it's solar path lights to meet the lighting needs of visitors seeing their way in the dark or energy-efficient accent lighting to add a little ambiance, they can make a big difference in the look and functionality of your outdoor spaces. But as with your indoor lighting, outdoor lights use electricity, bumping up your utility bills.
That's where solar energy can help. Solar landscape lights have built-in solar panels that harness the power of the sun's rays. During the day, a built-in battery stores energy from the light's solar cells, and at night, you get security lights with no electricity required.
Benefits of Outdoor Solar Lights
The biggest benefit of solar garden lights is that they don't need electricity. Lighting accounts for around ​15 percent​ of a home's electricity bill, on average, so even small savings can add up over months and years. But not needing electricity means you won't need to deal with wires and outlets.
Outdoor solar lights are easy to install. The best outdoor solar lights come with stakes and step-by-step instructions. You'll typically set the lights in direct sunlight for a day or two for them to gain a full charge, then insert the lights, stakes down, into the desired area.
Problems With Solar Lights
Solar-powered landscaping lights have a few weaknesses you'll need to be aware of before buying. One is that they can tend to be dimmer than electric-powered versions. If you're setting up solar spotlights or solar path lights, you might find you don't get quite the lighting you need.
Weather conditions can play a role in how well your light fixtures perform. Your lights will need at least a few hours of direct sunlight during the day to stay fully lit throughout the night. The more hours of sunlight the better, so, on cloudy days, you may find your run time is shortened considerably, with lights dimming at some point during the night.
Although solar lights don't emit a bright light, the fact that they run on solar power can make them well worth it.
When you're looking at types of solar lights and electricity-powered lights on store shelves, pricing may be comparable. But solar lights can save you money after you purchase them. There is, of course, the money you'll save on electricity bills, but that's not the only cost savings.
The biggest cost savings comes during solar lighting installation. If you have to hire someone to wire your floodlights or pathway lights, you'll end up paying far more than you did for the lights themselves. You'll also have to have a trench dug for the wiring so it can be buried. Homeowners can do this work on their own, but the labor involved is also worth considering.
Solar lights work well as accent lights. You can place them around a patio, in a garden or as solar string lights along your fence. You can cover your patio area in solar fairy lights. As long as you get a little direct sunlight in that area each day, you'll have sufficient mood lighting when you're relaxing alone or entertaining guests.
There are also ambient lighting options that have your solar lights working merely as accents. A solar wall light can add a little extra something to an outdoor wall. Walkway lights can be visually appealing if they're in an area that doesn't see much foot traffic.
Although solar lights don't emit a bright light, the fact that they run on solar power can make them cost-effective. If you live in a sunny area, you may find you get plenty of lighting after a full day of sunlight, especially on those clear spring and summer days.