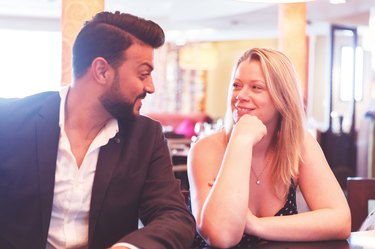 Once we've all gotten vaccines, everyone's going to be ready to mingle — and to make up for lost time, right? Anyone who was single or became single during lockdown could be seriously looking forward to getting back on the dating scene. But not even conquering COVID necessarily makes meeting your special someone easier. One major matchmaker is looking to help, though.
Match, which owns also owns Tinder, has just announced that sometime in the near future, it's going to allow users to run background checks on potential partners. The corporation has invested in a nonprofit called Garbo, which allows users to check up on public records about a person using only a last name and a phone number. Garbo says this information could include "reports of violence or abuse, including arrests, convictions, restraining orders, harassment, and other violent crimes." Importantly, these results won't include drug possession charges or traffic violations, both of which are charges unequally levied against people of color.
While we're single, many of us pour an outsized amount of energy and money into finding a life partner, even though many of us really don't know who or what we want. Dating apps in particular are no guarantee that you'll meet The One, but they're certainly trying to accommodate our post-COVID reality. Match's background check feature will probably be a paid add-on feature when it arrives. Love isn't always a scam, but it never hurts to maintain ways to keep yourself safe and happy in the turbulent seas of romance.