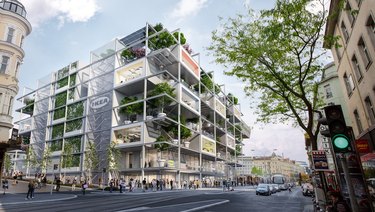 IKEA has a well-deserved reputation for affordable, attractive, and accessible furniture and home goods. Even if you don't have a physical store nearby, you might have a fond relationship with the company's glossy, heft catalogs. As timeless as some of IKEA's designs may be, it's focused on innovation, whether in price or in sustainability.
In Europe — more specifically, in Austria — IKEA is working on upending its own tried-and-true model. Don't worry, the flatpack and the Swedish meatballs aren't going anywhere. Instead, according to Apartment Therapy, IKEA's new store in Vienna is reimagining how a big box store can do business altogether.
The biggest shift comes down to parking. In short, there won't be any. Viennese shoppers can get to the store on public transit, and of course they can leave with any items they can carry. For the big stuff which we rely on IKEA for, the company will deliver purchases within 24 hours, although the online FAQ doesn't yet say how this service will be priced.
Meanwhile, the seven-story building will keep its total footprint smaller without attached parking. Visitors will also experience trees and other greenery on every level of the building, indoors and out; the rooftop garden will remain open to the public even when the store is closed, and a hostel will take up the top two floors.
At the turn of the last century, Vienna was one of the most forward-thinking and advanced, modern cities in the world. If all goes to plan, we could be seeing more of these store designs the world over. This IKEA opens in 2021.