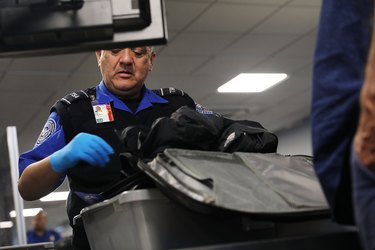 Illinois is poised to become the latest state to legalize recreational marijuana — and the 11th overall. Whether you're traveling to or from Chicago or another state with legal pot, you may have some questions about crossing state lines with certain products. You should definitely ask these questions about anything with CBD in it, especially if you'll be flying it home.
Despite the fact that it doesn't get you high (that's down to THC, if you're keeping up with the alphabet soup), CBD can still get you in trouble with federal agents in some places. According to the Transportation Security Administration, "Marijuana and certain cannabis-infused products, including some Cannabidiol (CBD) oil, remain illegal under federal law except for products that contain no more than 0.3 percent THC on a dry weight basis or that are approved by FDA." The FAQ entry for medical marijuana is marked with an icon indicating that "[t]he final decision rests with the TSA officer on whether an item is allowed through the checkpoint."
Short version: CBD products are allowed under certain circumstances. TSA officers may not be uniformly updated on this new policy, which includes subtleties such as whether the CBD in the product you're carrying derives from hemp (permitted) or not. Don't get too eager about connecting through O'Hare or Midway just yet either; should the governor sign Illinois' recreational marijuana bill into law, it won't go effect until the new year. Even then, nonresidents will — sad trombone — only be allowed to carry half the amount of product as residents.
In other words, if you're planning to purchase or transport CBD products, make sure you're clear on the local jurisdiction's laws. Check out these interactive maps and fact sheets to bone up.