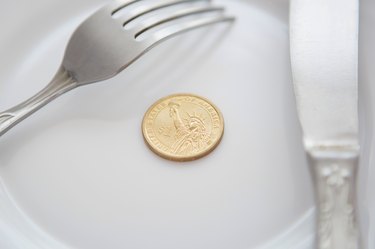 Ohio law sets a statewide sales tax and allows each of the state's 88 counties to set their own additional sales tax rates. Vendors must collect the tax from customers and submit the full amount with a sales tax return to the Ohio Bureau of Taxation. Most items sold at retail outlets are subject to sales tax, but Article XII of the Ohio Constitution makes an exception for food purchased for off-premises consumption.
Exempt and Non-Exempt Items
In Ohio, purchased food is exempt from sales tax, as long as the food is not consumed on the premises. This exemption does not apply to items not considered "food" by the state. This rule allows a sales tax on alcohol, soft drinks and tobacco, for example, but ice, bottled water, coffee and milk products are exempt if they're carried out of the store for consumption. Fruit juice is exempt if it contains more than 50 percent fruits or vegetables. Otherwise, it's classified as a soft drink and is taxable whether or not it's traveling with the buyer.
Location and Sales Tax Rates
The statewide sales tax rate in Ohio is 5.75 percent. Additional sales tax charged varies in Ohio from one county to the next. As of the time of publication, the aggregate rates run from 6.5 to 8 percent, with a majority of counties collecting 7.25 percent. Counties have the option at the start of each calendar quarter to raise or lower their additional sales tax rates.
Restaurants and Taxes in Ohio
Along with 14 other states, Ohio charges sales taxes on restaurant food, which means any food eaten on the seller's premises. If you buy food for off-premises consumption, however, the exemption applies, as long as what you're carrying qualifies as food. Buying a takeout hamburger in Ohio is a tax-free event, for example, but the soda you're having with it is taxable. The rules create some stress for fast-food restaurants in Ohio, where cashiers are supposed to ask customers whether or not they're ordering to go. These "quick-service restaurants" or QSRs, as the tax bureaucracy calls them, are subject to random audits and penalties from the Bureau of Taxation if they're not collecting appropriate sales taxes.