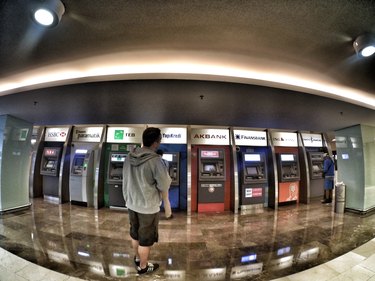 It costs money to use money sometimes, and while it's unfortunate, it's also just how the game is played. In the case of ATMs, we pay for convenience — especially when what's available isn't from our own bank. Yet even if ATM fees seem trivial, they can add up fast, especially when they're rising.
According to a new survey from Bankrate, not only are ATM surcharges higher than they were last year, they've been climbing for 14 straight years. Overdraft fees on checking accounts are the second-highest they've ever been, and the most common amount charged is $35. Just 8 percent of checking accounts are free, versus 73 percent of non-interest checking accounts 10 years ago.
One reason banks are getting more expensive to use is actually because they're pulling back from our day-to-day lives. As local branches shut down and more business is available through phone apps or online services, customers end up with fewer options. Getting cash back with a debit card charge is less flexible than an ATM or a bank teller. Now the average ATM surcharge is nearly $5, if you combine fees from your own bank and whichever one you're withdrawing from.
There are ways to sidestep these charges, but they do involve a little inconvenience. Stay aware of where you can find your bank's ATMs, whether it's within another chain (Citibank tends to have machines in 7-11 stores, for instance) or near a particular landmark. Most banks' apps and websites should have an ATM locator. Don't worry if you're in a pinch and have to withdraw from another bank — just be sure you don't make a habit of it.