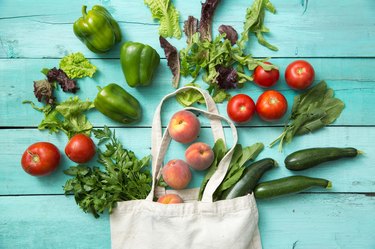 Consider how your senses affect how you shop and where. A store with too much incense might chase you away, while a business with cool minimalist design might draw you in. These are common tactics for home goods, clothing, and technology, but you may find your grocery runs becoming a lot more sensory down the road.
Finnish researchers at the University of the Arts Helsinki just spent two years looking into how restaurants and supermarkets could tweak customer behavior using music in particular. Some clothing outlets go so far as to hire DJs for creating shopper experiences; Abercrombie & Fitch used to be particularly famous for their in-store playlists. Music selections don't just affect Henley shirts and tank tops, though. The Finnish team found that playing nature sounds in the produce section increased sales by 20 percent over the previous week.
This isn't the only way music can hack our brains (one recent study showed how playing an instrument can make your brain more efficient). Sure, there's Muzak or Top 40 radio, but imagine a grocery store that considers its acoustics like a concert venue, or tries to conjure an emotion while you're browsing for beets. Restaurants, whether they're fine dining or rowdy bars, already to this to a certain extent, but shopping for produce isn't often the prized experience a nice meal out can be. Stay tuned — the Uniarts Helsinki researchers, who combined disciplines like "music research, food science, sociology, architecture, and business economics," could lead the way to changing all that.