Mornings can be the most difficult time of the day. You mean to wake up early, but hit the snooze button too many times and find yourself skipping breakfast. Grabbing something from the drive-thru is quick and easy, but those calories and dollars add up fast.

Try one of these hearty and healthy breakfasts instead -- you can prepare all of them the night before, so it's basically zero work in the morning. And who needs more work? Not you!
1. Overnight oats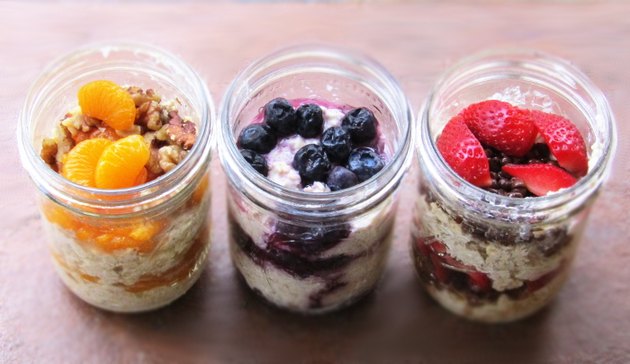 Fruit, nut, or candy mix-ins of your choice
Directions: In a large bowl, stir together yogurt and oatmeal until well mixed. Spoon into jars or other containers, and layer with your mix-ins. Refrigerate 4 hours or overnight. Mix-in ideas: oranges and walnuts, blueberries and lemon juice, strawberries and chocolate chips.
2. Peanut butter protein balls
Directions: In a large bowl, combine peanut butter, oatmeal, dates, and protein powder. Mix well, and refrigerate for 20 minutes. Form mixture into 1 inch balls, and roll with your favorite cereal to coat each ball. Refrigerate until ready to eat.
3. Ham and asparagus quiche
1/2 cup Swiss cheese, shredded
Directions: Whisk together eggs and milk until well blended. Stir in ham and asparagus, and pour into a greased baking dish. Bake at 375 degrees for 30 minutes, or until a knife inserted in the center comes out clean. Sprinkle cheese on top and bake another 5 minutes, or until cheese is melted. Refrigerate overnight, and slice and microwave in the morning for a quick breakfast.
4. Baked french toast
Directions: In a large bowl, whisk together, eggs, milk, and vanilla. Dip each slice of bread into the mixture and let it absorb the liquid. Overlap slices in a greased baking pan. Pour remaining egg mixture on top and sprinkle with cinnamon. Cover and bake at 375 degrees for 20 minutes, and then uncovered for 20 minutes. Refrigerate and serve in the morning, microwaved for 90 seconds. Toast can be cut into sticks to eat on-the-go, or served with maple syrup.
5. Chewy oatmeal bars
Directions: In a large bowl, mix together all ingredients. Spread into a greased baking pan, and bake at 350 degrees for 20 minutes, or until top is lightly crispy and eggs are set. Let cool, and slice into bars.