Having enough savings for retirement concerns each of us, and finding ways to accumulate those savings can be quite a challenge. Knowing where to put your money so it works for you in the ensuing years is not easy, but it doesn't have to be an impossibility. In fact, using these online sites and tools could help put you on the right path for financial security.
Vanguard Retirement Insights
Divided into three categories – saving for retirement, nearing retirement and living in retirement, this site provides tips for how to approach each one in simple terms that are easy to understand. In addition, there is an entire section of retirement planning tools to assist you with such issues as determining how much to save for retirement, creating a realistic budget for retirement, and reviewing the options for your company stock.
ESPlannerBASIC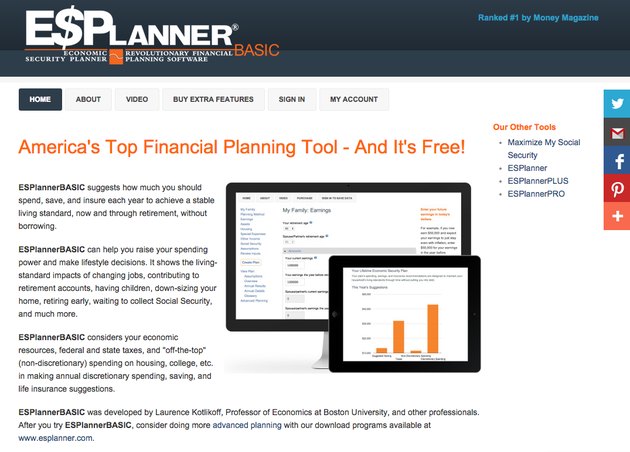 This financial planning software helps you set up a budget, set a savings goal and assist you in adjusting your financial planning to accommodate life changes such as changing jobs, getting married and having children. While using the online software is free, you cannot save your data without a subscription. For more advanced features, you can upgrade to additional products including ESPlanner, ESPlannerPLUS and ESPlannerPRO.
TD Ameritrade WealthRuler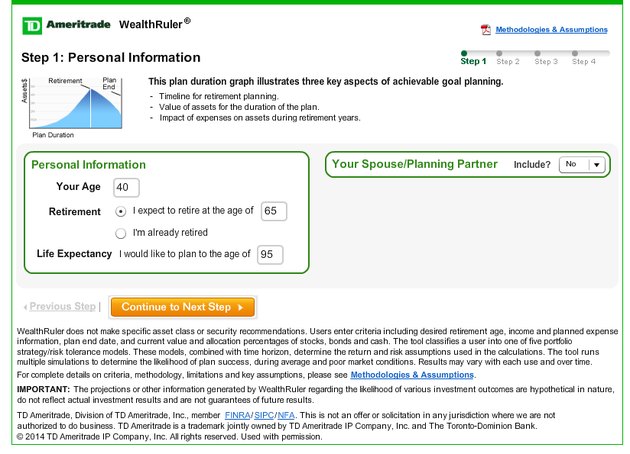 This free online retirement tool uses criteria including income, planned expenses and retirement age to chart what it calls "achievable goal planning." Using the chart, you can determine your monthly savings needs and see suggestions on how to help you build up these savings like adjusting your monthly savings, changing your retirement age and considering a different risk tolerance for your investments.
TIAA-CREF Asset Allocation Evaluator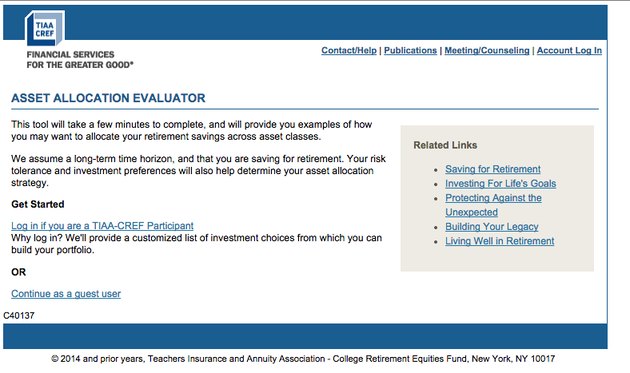 Deciding how to divvy up the funds in your retirement savings account can be difficult and even confusing. With the guidance of the TIAA CREF asset allocation evaluator, you can take some of the guesswork out of the process. Simply answer a few questions, and the software provides a suggested portfolio based on your preferred level of risk and desired growth.
Social Security Administration Retirement Planner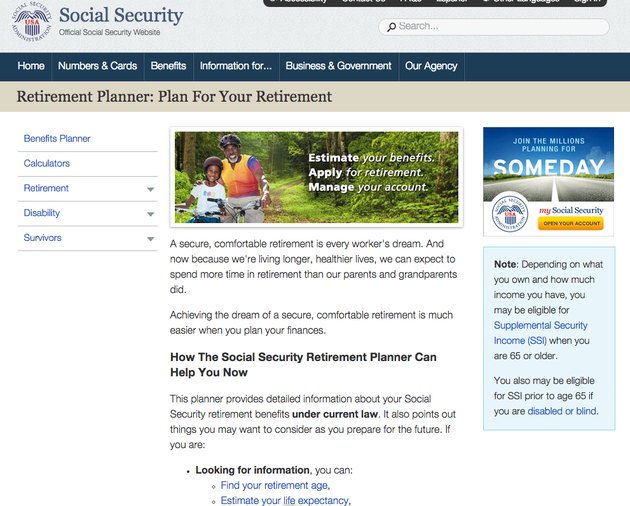 In retirement, everyone hopes to add to their savings when they start receiving their Social Security benefits. Using the estimator on the Social Security Administration's Retirement Planner, you can receive an estimate of your expected benefits. You also can find out how those expected benefits could be impacted if you decide to work during retirement. Plus, you can learn how to apply for both Social Security benefits and Medicare.
Fidelity Retirement Planning
Whether you are beginning to plan for retirement or you're nearing the day you do retire, Fidelity Retirement Planning can help you navigate the entire process. From choosing an IRA and creating a savings plan to reviewing your portfolio to help you achieve your goals, this site offers a wealth of information to make sure your finances are headed in the right direction.
AARP Retirement Guide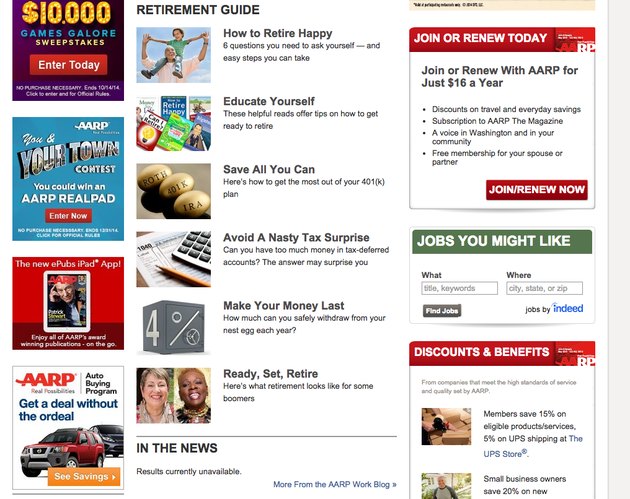 As a key source of information for adults age 50 and older, AARP offers a complete retirement guide that covers topics ranging from how to make the most of your retirement savings to preparing for income taxes. In addition to informative articles, the site also includes a variety of tools such as a health care costs calculator, a Social Security Q&A tool and a long-term care calculator.