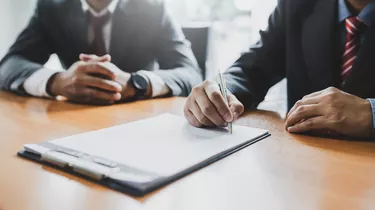 The number of consumers with unsecured personal loans increased from 15.7 million to 20.9 million between 2017 and 2020, reports TransUnion. If, for some reason, you decide to cancel loan applications, you should be able to do it without facing repercussions. Timing is everything. Before you take this step, note that each lender has a different policy.
Tip
If you apply for a personal loan and then change your mind, you may cancel it before receiving the funds. To cancel a mortgage application, you'll have to notify the lender in writing prior to signing the closing documents.
Getting approved for a loan can be difficult, especially if you have bad credit or no credit history. On top of that, most lenders expect borrowers to have a good job and a steady income. However, even those who qualify for a loan may have second thoughts about it. Perhaps you're concerned about your ability to pay off debt, or maybe you got the money from a friend or family member and decided to cancel your loan application.
If you decide that you no longer want the loan, contact the bank as soon as possible. Ideally, do it before you sign the loan agreement. U.S. Bank, for example, requires customers to visit a local branch or contact a representative by phone to cancel loan applications.
LendingClub, a peer-to-peer lending platform, has similar rules: its clients need to get in touch with a customer service agent by phone to cancel loan applications. If you have already received the funds, you can still terminate your loan application within five days. This is an exception, though. Other lenders may not allow you to cancel loan applications after the funds have been disbursed.
Canceling federal student loans is a little bit more difficult, as you must meet very specific requirements. For example, you may not be able to do it unless there are serious problems with the school you attend, according to the National Consumer Law Center. However, you have the legal right to cancel all or a portion of your loan before receiving the funds. If the loan has already been disbursed, you may cancel it within a specific time frame (depending on the school's policies). In this case, you must return the money along with any interest and fees.
What About Mortgage Applications?
Buying a house or apartment is one of the most important decisions you'll ever make. While it's perfectly fine to apply for a mortgage after finding your dream home, getting pre-approved can speed things up and make everything easier. However, many borrowers change their minds in the process and decide to back out of the mortgage. The good news is, you may cancel your mortgage application at any time before closing.
For example, if you lose your job during the mortgage process, it makes sense to back out of buying a house. Depending on the lender, it usually takes anywhere between 30 and 60 days to close a mortgage loan. If you decide to cancel your application within this time frame, submit a written request to the lender by email, fax or post. The lender may charge a penalty fee for the time spent on paperwork; home appraisal fees and other charges are not refundable.
Unfortunately, you cannot cancel a mortgage application after signing the closing documents, states the Consumer Financial Protection Bureau. But if you're applying for a second mortgage or refinance, you may submit a cancellation request within three business days (including Saturdays) of signing the paperwork. Just make sure you notify the lender in writing.