Home price and negotiating favorable sale terms have a big impact on your bottom line when selling a house. Paying a high amount at closing has the same affect on your net proceeds as a lower home price would. Most closing costs and repair amounts are negotiable. Whether they are designated seller expenses or buyer expenses depends on the circumstances surrounding your sale and your willingness to cover the costs in order to get your home sold. Expect to pay certain costs as a matter of custom, law, or negotiations.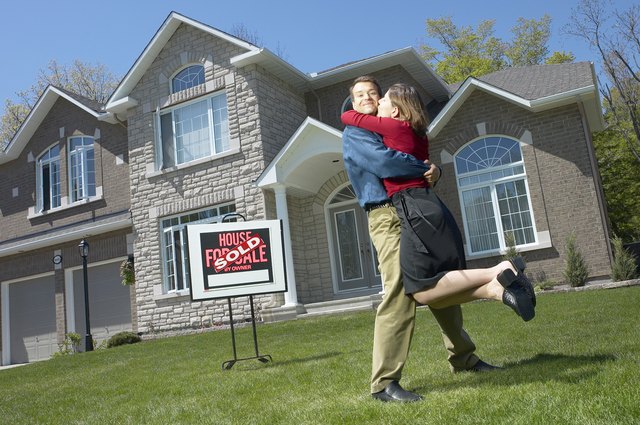 credit: Hemera Technologies/AbleStock.com/Getty Images
Typical Closing Costs for Sellers
Local custom and contract negotiations dictate your portion of the transaction's closing costs. Also known as settlement costs, these fees pay for third-party services such as the escrow holder and title insurance. For example, sellers and buyers commonly split the escrow fee in half and each covers their own title insurance -- sellers pay for an owner's policy and buyers pay for a lender's policy. States, counties and municipalities impose transfer taxes, sometimes known as excise taxes, on the sale of real estate, which sellers also pay. Other seller closing costs commonly include notary fees and attorney fees.
Sellers Pay Both Agents a Commission
Sellers pay a commission to both the listing agent and the buyer's agent in most areas. The agents split a percentage of the sale price, typically 5 to 6 percent, with each agent receiving equal or unequal shares depending on the terms of the listing and cooperating-broker agreements.
Mortgage Payoff Is a Must
To pass clear title to the buyer, you must pay off all liens when you sell your home. Mortgages are a common lien that require payoff at closing. A mortgage payoff statement reflects the amount based on a specific payoff date. Your mortgage payoff balance exceeds your current loan balance. The mortgage lender's payoff amount covers unpaid payments or penalties, plus per diem interest charges through closing day, early pay-off, or prepayment penalty fees, and a payoff-request fee. You also must pay off secondary mortgages, including home equity lines.
Your House May Need Repairs
You may need to make repairs to the home before putting it on the market. If you have a minimum sale price in mind, you may have to fix items and perform cosmetic work to fetch that target price. Buyers may have specific repair requests. Home appraisals may identify serious issues, such as structural problems and safety hazards, which the buyer's lender will require to be fixed. A buyer's home inspection may identify other less serious flaws that the buyer wants fixed, too. Unless required by state or local law, sellers aren't required to make repairs or issue a repair credit to the buyer. Doing so, however, may be worth the cost if it means selling and profiting from the house or not selling it.
Some Buyers Want a Closing-Cost Credit
Buyers face closing costs that range from 2 percent to 7 percent of the sale price. They may ask for a closing-cost credit, in which you cover a maximum dollar amount or percentage of the sale price on their behalf. The lump sum is applied to the buyer's account at closing, offsetting the amount they need to close. A seller concession of this sort can often mean the difference between buying and not being able to afford a home, especially for marginal buyers.