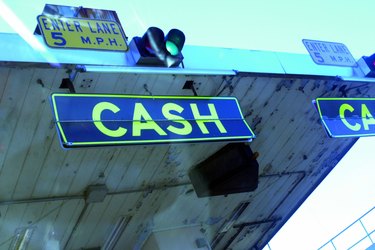 New Hampshire toll booth attendants, tellers and supervisors all work for the New Hampshire Department of Transportation, a government agency responsible for maintaining public roads throughout the state. As employees of DOT, anyone employed at a toll booth in New Hampshire is considered a government employee. This means they fall into the pay structures as defined by the state.
New Hampshire Toll Plazas
Toll booth employees in New Hampshire may work at any of the three turnpikes in the state: the Central Turnpike, most commonly known as the F.E. Everett Turnpike; the Blue Star Turnpike (I-95); or the Spaulding Turnpike. At each of the 10 toll plazas along these routes, toll booth attendants and tellers collect funds and give change to drivers coming through the toll booths.
Toll Attendant I
State employees classified as "Toll Attendant I" are grade 9 employees, according to the state salary schedules. They have the fewest responsibilities of the toll booth operators, and are primarily responsible for collecting tolls. No supervisory responsibilities are required. Pay for "Toll Attendant 1" employees ranges between $20,000 and $35,000, depending on the level of experience. Most full-time employees, however, receive compensation of between $25,000 and $32,000. Some opportunities for holiday and overtime pay exist, but generally don't account for a significant increase in the overall income amount.
Toll Attendant II
These toll booth employees are classified as grade 11 employees. They have more supervisory responsibilities and thus receive higher compensation than Toll Attendant I employees. They, too, are responsible for collecting tolls from passing vehicles, but have the added responsibility of assisting toll supervisors with the supervision of Toll Attendant I employees and the overall operation of the toll booth stations. Depending on experience, full-time salaries for Toll Attendant II employees ranges between $29,000 and $37,000, with most employees averaging around $35,000 a year. Vacation pay and overtime pay may increase the employee's overall income, though it generally doesn't amount to more than an extra $1,000 to $2,000 per year.
Toll Station Teller
Toll station tellers oversee much of the financial aspects of the toll booth stations by providing bills and change to attendants so they can give exact change to paying vehicles, giving surprise audits to toll booth attendants and securing, tagging and preparing all funds before they are transferred to a financial institution. Toll Station Tellers are classified as grade 10 employees, and therefore their pay scale falls between Toll Attendant I and Toll Attendant II employees. According to the published pay schedule, Toll Station Tellers can expect to earn between $26,000 and $35,000 depending on their level of experience.
Toll Supervisors
Toll supervisors earn the highest salaries among toll booth employees in New Hampshire and are considered grade 13 employees. With the responsibility of overseeing the entire toll station and its employees, supervisors must have a high level of organizational and managerial experience. The full-time salary range of toll supervisors is $33,000 to $40,000, with the vast majority of supervisors earning approximately $38,000. Supervisors often earn an additional $1,000 to $3,000 per year between holiday, overtime and bonus pay.