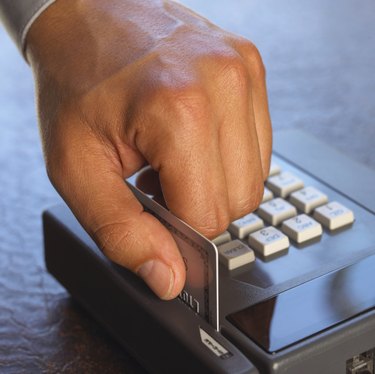 Prepaid debit cards are becoming increasingly popular, particularly for those who can't get a bank account and for those who don't want one. The basic premise of all the cards is the same -- you pay a fee to load money onto the card and either pay a fee when you use it or pay a flat fee for use. Some cards have direct deposit options which can be used to load loans, paychecks or tax refunds.
Loading the Card
Prepaid debit cards can be loaded in various ways, including currency exchanges, purchasing MoneyPaks, bank transfers, direct deposit and card-to-card transfers. To direct deposit a loan, paycheck, government check or IRS refund to your card, you are provided with a bank routing number and an account number. For a loan, you provide the lender with the routing number and account number information and he loads your loan through an electronic funds transfer. Fund availability varies from card to card as does the total amount you can load each month.
Choosing a Card
Prepaid debit cards come with a variety of services and options, as well as fees and methods of loading them. For example, Netspend, Upside and the Chase Rush card all offer direct deposit and multiple methods of loading the card. Fees vary widely and can quickly eat away at your balance. All prepaid cards offer the opportunity of cash back with retail purchases. Not all of them are FDIC insured. If you plan to deposit a loan on one, make certain it is insured.
Unloading the Card
Getting your money off the card with the fewest fees possible is always the challenge as fees vary widely. For example, Netspend charges two dollars for each Pin transaction and one dollar for each signature transaction. Upside charges 99 cents per month if you load $500 or more in that month otherwise the fee is $2.99 for the month with no per transaction fee. Chase has two fee plans. The monthly plan fee is $9.95 and each monthly plan transaction completed with a signature is free, with a Pin is $1. The pay-as-you-go plan fees are the same but are capped at $10. Prepaid debit cards are treated like checking accounts at an ATM. Netspend and Upside do not have cash stations so you are charged a fee by both the card and the ATM. Chase charges fees with both plans, but you get two free with the monthly plan. If you keep the loan you direct deposited on the card, get one that has a free option for checking the balance. Chase allows you to check for free twice a month only on the monthly plan, but it's $2.50 thereafter.
Other Benefits
Netspend offer a savings account option while Upside allows you to send a check to pay your bills. The Chase Rush card offers discount health plans, Upside offers merchandise discounts and mobile apps are common. These are only some of the other benefits to look at when choosing your card.