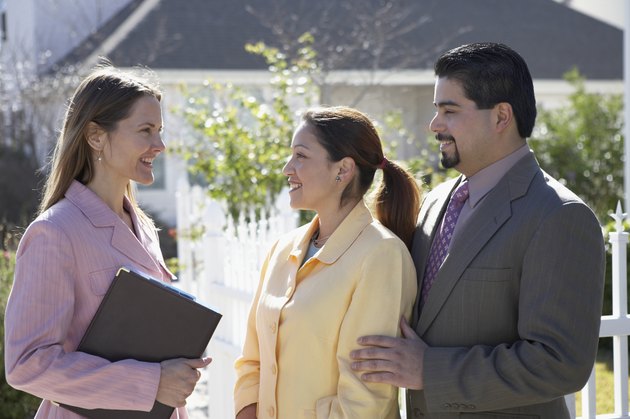 Hiring a property manager to oversee your investment in real estate is an important detail that should be taken seriously. Your property may be one of the biggest investments that you'll make, so you need a management company to care for it as responsibly as you would. Property managers charge a variety of fees to compensate for work performed. Start by comparing these costs when selecting your management company.
Management Fee
Managers charge fees for collecting rent and overseeing the property in general. Fees vary depending on whether you have one rental, several single family rentals, an apartment complex or a commercial building. Most management companies charge a percentage of gross rents collected; typically between 3 and 15 percent. Some companies charge a flat monthly fee regardless of the rent. Bulk discounts usually apply, so the more properties you own, the lower your percentage rate will be. On average, management fees for one home will cost you 10 percent of the monthly rent collected.
Leasing Fee
The leasing fee is an additional charge for finding, screening and accepting new tenants. In some instances, you may have to pay for advertising and other expenses associated with filling a vacancy. When your management company collects the first month's rent, it will deduct the leasing fee and forward the balance to you. Most companies charge between 25 and 100 percent of one month's rent. When the tenant renews the lease, your management agreement may include a renewal fee of up to a few hundred dollars.
Miscellaneous Fees
When you have a vacancy, the management company still oversees the property. Cutting the grass, watering the garden and securing the property may cost you an additional fee. This can range from a small amount -- $25 to $50 -- to the entire monthly management fee. Also, when your manager calls a vendor to supply a service, such as a repair, you may be charged a markup over the actual cost of the bill. Ask your manager about these expenses before signing a contract.
Shop Around
Interview several property managers in the area before choosing one. Ask each candidate to send you a contract so that you can compare the various costs and duties covered by the fee. Call references and ask if the management company collects the rent on time, sends the owner the money by the date in the contract and has open lines of communication. Negotiate a short-term agreement as a trial run, so that you can quickly replace the manager if he does not meet your expectations. During the term of your contract, visit your property frequently to make sure the company is performing the tasks promised in your contract.