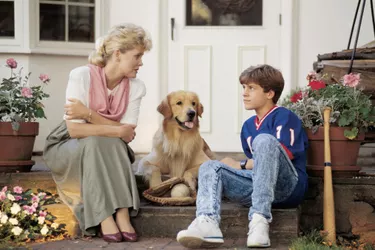 Two state agencies in Maryland operate eight housing assistance programs that can help single mothers in Maryland. They're not all grants programs, but they each seek to stabilize your family's economic situation by providing you with services and keeping your family in safe affordable housing. The Maryland Department of Housing & Community Development and the Maryland Department of Human Resources are two resources to connect with to get help.
Housing Choice Voucher Program
One of your first lines of defense against a serious housing issue is a federally funded, Maryland-administered program known as the Housing Choice Voucher Program. Formerly known as Section 8, the program provides subsidies of your rent, so you pay a portion and the government pays a portion. Your portion would be no more than 40 percent of your monthly income. You're allowed to find your own home, but it has to meet certain quality standards. The program is for low-income families, and what's low income is indexed to people in your area. To be eligible, your annual income can't be greater than 50 percent of the area median income.
Rental Allowance Program
The Maryland Department of Housing & Community Development also runs the Rental Allowance Program. Through RAP, as it's known, the state gives money to local governments to dole out in grants to low-income families who either are homeless or have an emergency housing need. Its goal is to get families off the streets and into permanent housing. You can receive the allowance for up to 12 months. In most cases, you can apply through your county social services agency.
Homelessness Prevention & Housing Counseling Programs
Maryland Department of Human Resources's Office of Grants Management runs five housing programs that can help single mothers. You can call 410-767-7285 to apply for help from each program. The Homelessness Prevention Program is for families with a pending eviction. The program doesn't provide money, but access to support counselors to work with you and your landlord to prevent the eviction. The Housing Counselor Program operates only in Baltimore, Harford, Montgomery and Washington counties, as well as Baltimore City. This program assists low-income families who are homeless or in "imminent danger of becoming homeless." It helps you find and rent permanent housing. The counselors help you establish adequate credit and apply for subsidized housing. This program puts you in touch with organizations that will help you with first and last month's security deposits, paying your utilities and getting you furniture. It also helps you when you're jeopardized by a rent increase or get a new job that's too far away from your home when you don't have stable transportation. It helps you locate space nearer your new job and a public transportation route.
Service-Linked Housing Program
The Service-Linked Housing Program seeks to prevent an episode of homelessness by stepping in to help in a precarious economic situation. It connects you with health-care services, education and job training, employment, addiction services and other types of counseling. It only operates in 12 of Maryland's 23 counties, and in Baltimore City.
Emergency and Crisis Situations
The state also provides a network of shelters for people who are homeless. You can contact a shelter for help using the Directory of Maryland Emergency Shelters and Transitional Housing Programs (see Resources). In addition, the state has special crisis shelters in Baltimore City, Anne Arundel, Baltimore, Calvert, Carroll, Cecil, Garrett Harford, Montgomery, Prince George's, Somerset, St. Mary's, Wicomico and Worcester counties. They are essentially safe houses for women who are homeless and fleeing dangerous situations. They provide room and board and referrals to physical and mental health care, employment services and case management. You can call 410-767-7285 to find out more about the Crisis Shelter Home Program.