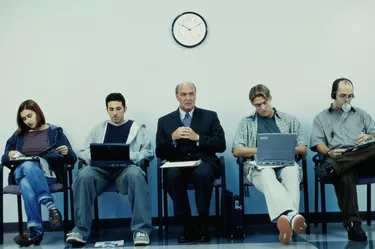 In addition to unemployment compensation benefits, there are federal and private programs available to help you stay on your feet when you lose your job. Although being unemployed isn't a specific requirement, the programs are reserved for people with a low income or financial hardship. The common goal among all programs is to help you meet basic needs while working towards economic self-sufficiency.
Temporary Assistance for Needy Families
Temporary Assistance for Needy Families is a federal assistance program that provides cash benefits to help families achieve self-sufficiency. There are no restrictions on how the money can be used. For example, you can use the money for rent, gas or other personal expenses. Although it's a federal program, each state administers the TANF program and the eligibility requirements and benefit amount varies among states. The program emphasizes work and helping parents find jobs. As a requirement, adult TANF recipients must participate in work activities to receive the assistance. The definition of work activities differs depending on the state, but may include searching for a job or on-the-job training.
Supplemental Nutrition Assistance Program
The Supplemental Nutrition Assistance Program helps low-income families purchase food. The household income must be at or below 130 percent of the poverty level. As of 2015, the limit is $2,144 for a three-person family. If you're an unemployed adult without children, benefits are limited to 3 months in some states unless you're participating in a qualifying workfare or job training program. If you're unemployed but caring for a minor child, the 3-month limit doesn't apply.
Housing Choice Voucher Program
The U.S. Department of Housing and Urban Development runs the Housing Choice Voucher Program, also known as Section 8. The program helps very low-income households with the monthly rent for safe and affordable privately-owned housing. Local public housing authorities receive federal funding to administer the program and provide rent subsidies to qualifying households. You don't need a job to qualify, but you'll need to contribute 30 percent of your income towards the rent. The voucher covers the remaining portion of the rent. According to HUD, long waiting lists are common. Preference may be given to families that are homeless or in danger of becoming homeless.
Charities and Non-Profit Organizations
The Salvation Army may offer short-term financial assistance to help with basic needs, such as rent or utilities. Aid is typically available on a one-time basis for people who experience a hardship, including a job loss. Seasonal and holiday help also is available for school supplies or Christmas gifts. The Salvation Army also provides employment assistance and job training to get you back on your feet.
Catholic Charities is a national charity that helps people in need regardless of religious affiliation. The charity is known to help struggling households with rent, utilities and food. It also provides clothing, furniture, counseling and job assistance, including resume building.