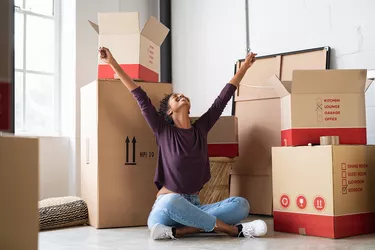 College and university students often face the dilemma of keeping roofs over their heads at a time when they're already facing the significant challenge of completing their education. Help is available, but the rules for various housing programs can be stringent. Joining up with roommates is one option for affordable student housing, and most college housing offices provide roommate-matching services and lists of available off-campus, low-income apartments.
Government Housing Assistance for College Students
The U.S. Department of Housing and Urban Development's Section 8 program usually comes first to mind for anyone searching for an apartment on limited income, regardless of whether they're a student. But HUD has placed some requirements for students that might be difficult for some to meet:
Students can't qualify for Section 8 assistance if they're:
Not veterans of the U.S. military
Not the parent of a dependent child
Weren't receiving assistance as of Nov. 30, 2005
These rules can be waived if a student qualifies under all other Section 8 requirements and their parents qualify for Section 8 assistance as well. Parents must provide a certification of their incomes unless the student can prove that they're independent from them. This means establishing that they've been living separate and apart from their parents for at least one year and that they can't be claimed as their dependent for tax purposes.
All Section 8 applicants must earn 50 percent or less of the median income in the area where they seek housing, and the landlord must be willing to accept Section 8 vouchers. The voucher effectively contributes the difference between the actual rent amount and at most 30 percent of the renter's income. Waiting lists are often problematically long.
The Low-Income Housing Tax Credit: Section 42
Another potential housing program for college students is HUD's Section 42 program, but the restrictions are equally strict. This rental assistance isn't available to households made up entirely of full-time students unless one of the following circumstances applies:
They're receiving Temporary Assistance for Needy Families (TANF)
They were in a foster care program as a minor sometime within the last six years
They're enrolled in a federal, state or local job training program
The household consists of single parents and their children, and the parents are not the dependents of their own parents or any other taxpayer or
At least two of the roommates are married and file a joint married tax return
The household or "family" must additionally collectively earn no more than 30 percent to 60 percent of the county's average median income, and all the roommates don't have to be students.
Student Grants Can Be Used for Housing
Federal, state and institutional grants, as well as some private scholarship funds, can be used for housing needs, but this option usually only provides for on-campus room and board costs. Some of these federal grants are available if you complete and submit the FAFSA application. They include:
Federal Supplemental Educational Opportunity Grants
Academic Competitiveness Grants
Teacher Education Assistance for College and Higher Education Grants
Iraq and Afghanistan Service Grants
Your school might also have its own housing grant program. Many do, and you won't know unless you inquire. A dorm room might not be an apartment of your own, but this option could work out to free – or nearly free – housing.