The U.S. Department of Housing and Urban Development provides housing assistance to qualified low-income households. The public housing and project-based rental subsidy programs allow low-income families to pay 30 percent of their income toward rent. HUD pays for the remaining portion of the rent. Students may be eligible for HUD's housing assistance programs if they meet income and independent household eligibility requirements. You can obtain an application for a low-income apartment at the local housing authority.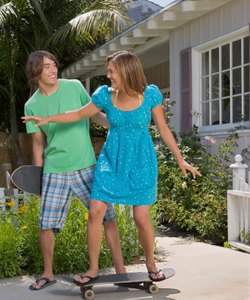 Income Limits
Students must meet the income limit requirements to be eligible for a low-income apartment. HUD Public Housing facilities require that applicants have income at or below the low-income limit level or 80 percent of the area median income. Some areas have more restrictive limits and may require applicants to have incomes that do not exceed 50 percent of the area's median income or the very-low income limit level. The income limit will also be based on the size of the family. Families with more than one household member can have a higher income than a household of one. Income limits have been established for every family size.
Eligibility
For a student to be determined eligible for low-income housing, she must demonstrate her independence from parents. The student is required to be of legal contract age under state law and have established a separate household from her parents for at least one year prior to submitting a housing application. The student also cannot be claimed as a dependent on IRS income tax returns and she must obtain a certification of how much financial assistance is provided by a parent, even if there is none provided. Any financial aid provided from the institution of higher education or private sources will be used to calculate income unless the student is over the age of 23 and has a dependent child.
Application Process
To apply for a low-income apartment the student must obtain an application for assistance and provide documentation of income and student eligibility requirements. In addition, the student will have to provide a Social Security number, a copy of his identification card and evidence of citizenship. Noncitizen applicants with a student visa are ineligible for assistance. If the applicant has a spouse or dependents who are U.S. citizens, the family will receive prorated assistance to include only the family members who are citizens. The household will also be screened for drug-related criminal history and sex-offender registration. If any household member is found to have one of these in their background, the family will not be admitted into the low-income apartment.
Leasing Requirements
Every household member over the age of 18 is required to sign a HUD Model Lease. The lease outlines the responsibilities of the student and HUD to pay for the rent. The low-income apartment owner is allowed to collect a refundable security deposit at the time of move-in. The owner must conduct a move-in inspection with the student prior to occupancy to confirm any existing damages. Once the student vacates the apartment, she must provide a 30-day notice of intent to move and a forwarding address to get a refund of the security deposit. The owner will deduct any repair expenses from the deposit and must provide a itemized list of expenses that were deducted to the student.