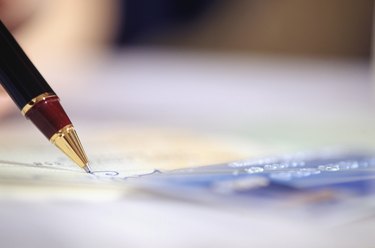 Warning
Under federal law, banks can place extended holds on deposited checks that can last for up to nine business days. As an executor, while you should disburse the estate's assets as quickly as you can, do not write checks before the money has cleared into the account. If you do, you could have a legal issue because the bank may assess overdraft fees that would deplete the estate's account.
Tip
In some instances, banks may allow you to deposit a check into your own personal account that an estate executor signed over to you. However, when you do this, you assume full responsibility for the check and must reimburse your bank if you spend the proceeds only for the drawee bank to refuse to honor the check. Generally, banks only make exceptions to standard depositing rules for checks that are written for $100. This prevents situations from arising where the bank loses money because the check bounces and the depositor lacks the funds to repay the bank.
When you die, the executor of your estate must open a deposit account to hold any cash assets that form part of your estate. Your executor may receive dividend checks and other payments that are tied to your assets and all of those checks are made payable to your estate. You cannot cash estate checks because banks only cash checks that are made payable to individuals. Consequently, the executor of an estate must deposit checks into the estate's bank account. Banks can refuse to honor checks if proper endorsement procedures are not followed.
Step 1
Review the check to ensure that the writer made the check payable to the estate using its full legal name and not an abbreviated version. Insurance companies often refuse to honor checks that are deposited into accounts with titles that do not precisely match the payee line on the check. If necessary, contact the check issuer and request a duplicate check made payable to the estate's correct name.
Step 2
Take your check to the bank that houses the estate account. Write the name of the estate, the amount of the check and the account number of the estate onto a bank deposit slip. Give the deposit slip to a teller along with one form of government issued identification.
Step 3
Turn the check over and write "For deposit only" on the first endorsement line. On the second line, you must write the full legal name of the estate. On the third line, you must write "by," sign your name, and then write "executor."
Step 4
Give the endorsed check to the teller and once the teller has verified that you are the executor of the estate, ask for your ID back and a copy of the receipt. As executor you may ask the teller to give you the account balance. Only the executor can deposit a check into an estate account.