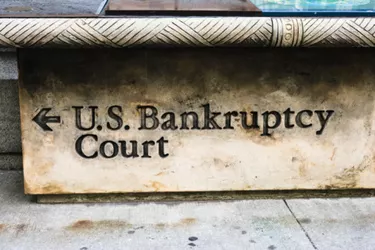 Someone wishing to sell securities in the United States must pass the Series 7 securities exam administered by the Financial Industry Regulatory Authority (FINRA), formerly the National Association of Securities Dealers (NASD). Those passing this exam are eligible to become a registered representative of broker-dealers in the United States. Should a Series 7 broker fall upon hard times, he must consider the possibility of having his license revoked before declaring bankruptcy.
Declaring Bankruptcy
Declaring chapter 7 or 13 bankruptcy is usually the last step for those who fall into arrears financially and cannot pay their debts. Bankruptcy automatically stops collection actions, including wage garnishments and lawsuits, but it is not always desirable. Financial advisers, brokers and consultants may have their licenses revoked or restricted. Bankruptcy remains on your credit report for up to 10 years, usually preventing you from acquiring additional credit.
FINRA
According to the Financial Industry Regulatory Authority (FINRA) By-Law, Article III, Section 4, filing for bankruptcy is not an event that would disqualify an individual from being associated with a FINRA member firm. FINRA is the largest independent regulator for securities firms operating in the United States. Its goal is to protect investors by making sure the securities industry operates fairly and honestly. FINRA oversees over 631,110 registered securities representatives.
State Bankruptcy Laws Vary
Bankruptcy laws vary from state to state. Some states are more restrictive than others. According to Attorneys Worwag and Malysz of Des Plains, Illinois, since all individuals are entitled to bankruptcy relief, professional licenses, such as those held by CPAs, real estate agents, and medical and legal professionals, should be unaffected by a bankruptcy filing. Only individuals licensed to give financial advice may be denied the renewal of that license in Illinois.
In the End, It Is the Firm's Decision That Counts
At the end of the day, it is up to the individual brokerage house or investment company to decide whether a broker with a chapter 7 bankruptcy is an asset to the firm or whether the situation places the integrity of the firm in question.