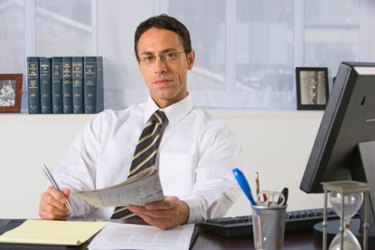 The National Association of Securities Dealers, commonly called NASD, has been merged into the Financial Industry Regulatory Authority -- FINRA. However, the different license types from the former NASD still exist and are designated with the same names. FINRA is responsible for regulating the securities industry.
FINRA Background
The Financial Industry Regulatory Authority was formed in July 2007 with the merger of the NASD with the member regulation division of the New York Stock Exchange. FINRA is a non-governmental regulatory agency responsible for the enforcement of the regulations pertaining to the securities industry and its employees. The agency members are the companies under regulation. Individuals working in the securities industry are commonly called registered representatives and are tested and licensed by FINRA, formerly the NASD.
Series 7 Registration
The Series 7 General Securities Representative registration is the license for a stock broker who sells a broad range of stocks, bonds, options, funds and private placement investments. In common use, a person with this registration is said to have an NASD or FINRA Series 7 license. Any individual employed by a stock brokerage firm who interacts with customers providing investment advice and selling securities must be a Series 7 registered representative.
Series 6 Registration
A NASD/FINRA Series 6 registered representative is allowed to sell managed investment products including mutual funds and variable insurance products. A Series 6 representative is not allowed to sell individual stocks and bonds or engage in funds trading in the secondary markets, such as closed end funds or exchange traded funds. A Series 6 registered rep is often an insurance agent who gets the license to sell variable products and mutual fund to her customers. Another job source for Series 6 reps is selling funds in a bank or credit union.
Other NASD/FINRA Licenses
In a FINRA member securities firm, the management and supervisory personal must also have a FINRA registration license of one form or other. Different positions in a securities require different NASD/FINRA series registrations. Management level registrations include series 4, 9, 10, 23, 24, 26, 27, 28, 39, 51 and 53. Some of these registration licenses are as a principal or manager for specific types of securities, such as the Series 4 for an options principal and the Series 51 for a municipal securities principal.