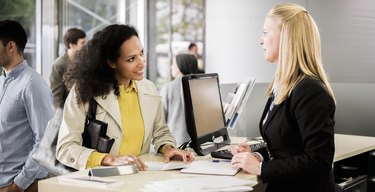 A money order is a safe way to transfer money when you're buying something from a stranger. Unlike checks, when you pay using a money order, the other person knows the funds are guaranteed. Money orders do not expire, but you may be charged a monthly fee after a certain timeframe, so it's important to know where to cash a money order as soon as you discover you've forgotten about it.
Tip
Money orders don't have an expiration date, but after a certain time period, some services deduct a small amount of the value for each month it goes unused.
Do Money Orders Expire?
Money orders generally don't expire, although some services deduct from the value of the money order if it isn't used by a designated number of months or years. A bank money order generally doesn't have this stipulation, but you'll need to check with the branch issuing the check. TD Bank money orders don't expire, for instance, and fees aren't charged if you don't cash it within a specific timeframe.
The post office is the top issuer of money orders, and their money orders never expire, although you'll pay a fee of at least $1.25 at the time of issuance. Another popular money order spot is Western Union. Although Western Union's money orders don't expire, a service fee may be deducted from the amount on the order. This service charge, if applicable, is detailed on the back of the money order.
Amscot Money Orders and Expiration
Amscot is a check-cashing and payday loan type of business that issues and cashes money orders. You can visit a local branch and purchase a money order at no cost. An Amscot money order has no expiration date, but if you don't use it within a year, the value on the face of the money order will begin to depreciate.
If the recipient doesn't use the Amscot money order within a year, $2 a month will be deducted, with the amount prorated if it's cashed midway through a month. This deduction will continue until the money order is used or it reaches $144, whichever comes first.
Where to Cash Money Order
No matter when a money order is issued, you should use it as soon as possible. If you're wondering what to do with a money order, the best place is your own bank, where you can either deposit it or, depending on the bank's rules, turn it into cash. This is the place you're least likely to pay a fee for cashing it, unless the issuing service requires that a fee be deducted.
If you need the cash immediately, your best course of action is to head straight to the issuing business. But not every place that issues money orders cashes them. In that case, you'll have to rely on other locations for cashing out your payment.
Those include grocery stores, convenience shops and payday loan places. Check the fees before you go, though, since some places can charge 10 percent or more.
Replacing Lost Money Orders
One reason many people use money orders to mail payments is that they can be tracked if they're lost. That doesn't mean you won't pay a fee for the service, however. If you've lost a money order, the first thing to do is get in touch with the issuer and let them know. Whether it's a bank money order or one from another service, the issuer can cancel it and get the money back, minus a fee.
The fee for canceling a lost money order varies from one place to another. The USPS charges $5.95, while Western Union is $15 if you have your receipt and $30 if you don't. With Amscot, you'll need to mail your money order stub, along with a money order for $12, to the address on Amscot's claim form and wait for the request to be processed. If it's a bank money order, you may find the fee is slightly lower as a service to members.