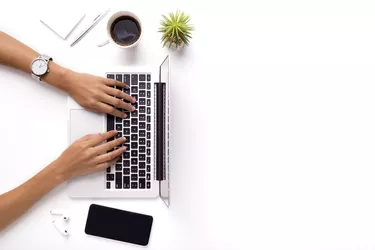 If you're looking for a secure way to pay a bill or send money to a friend, money orders are an excellent choice. Since money orders require you to pay the amount upfront, the receiver of the money order never has to worry about it bouncing, like a personal check. Chime reports that money orders are preferred in certain situations, such as sending money internationally or protecting your privacy during a transaction. If you are the receiver of a Western Union money order, you may be wondering where to cash it.
Money orders are issued on paper, just like checks, and allow you to transfer funds with ease. They have built-in security features and can only be cashed by the individual listed on the check. When obtaining a money order, you'll need to provide the name of the recipient, the recipient's contact information and your signature. There is an optional memo section where you can spell out what the money order is for, such as "lawn care maintenance" or "January rent." You'll need to provide the total amount of the money order to the cashier, as well as the associated fee, which varies based on the amount of the money order.
Locating a Western Union Branch
One of the easiest ways to cash a Western Union money order is to visit your local branch. With 42,000 Western Union branches in the United States alone, chances are you won't have any trouble finding a store near you. The company has a store locator tool on their website, if you aren't sure where the closest branch is to your home or office.
Simply click the yellow "Find a Location" button on the website and enter your zip code or city in the information box. There's also a blue link that you can click that will use your computer or cell phone's GPS to automatically provide results based on your current location. Your results will most likely include several branches, the distance in miles to each branch, the branch's telephone number and physical address and the store's operating hours.
You can also cash Western Union money orders at your local bank or credit union. You can ask the teller to deposit the funds directly into your account, or you can endorse the check and request the teller issue you the funds in cash. You'll need to provide your account number, as well as a valid form of identification.
Using a Check-Cashing Store
In the event that you don't have any accounts with a bank and there are no Western Unions close by, you can use the services of a check-cashing store. Unlike your bank and Western Union, these types of facilities do not cash money orders for free. Fees vary, but are typically a percentage of the check amount. That means if your check is $100 and the fee is 3 percent, you'll have to pay $3 to have the check cashed.
Several retail stores have check-cashing booths that you can utilize to cash your money order, which is quite convenient if you plan on spending the cash at the store. Most grocery and retail stores partner with either Western Union or MoneyGram, so you'll need to make sure the store you visit partners with Western Union. For example, Walmart will only cash MoneyGram money orders, while Kroger will only cash Western Union money orders. Again, make sure you endorse the money order and bring the proper ID. These stores also operate like every other check cashing facility by charging a fee for their service.